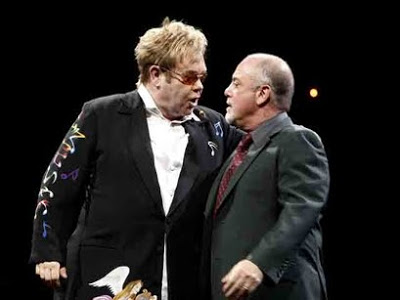 NEW YORK — Elton John says Billy Joel needs to get serious about rehab and "do something better" with his life. John makes the comments about his former touring partner in the Feb. 17 edition of Rolling Stone magazine. He tells the magazine the pair canceled many tours because of Joel's illnesses and "alcoholism."
He also says Joel should do rehab like he did it – with patients cleaning floors, not watching television.
John says he knows Joel is going to "hate" him for this. But he says Joel needs tough love.
Joel spent a month in a California rehab center for treatment of alcohol abuse in 2005. He spent about two weeks at a Connecticut facility in 2002.
A representative for Joel hasn't returned an Associated Press e-mail request for comment on John's remarks.
Joel — publicly and privately — battled with depression for many years and, in 1970, attempted to commit suicide by drinking furniture polish. While that experience ultimately led to powerful new songs and a renewed commitment to both his career and personal life, he's had at least two stints in rehab in the past decade, including a month-long stay at the Betty Ford Center in 2005.
COMMENTS
There aren't any comments yet.
Comments are closed.