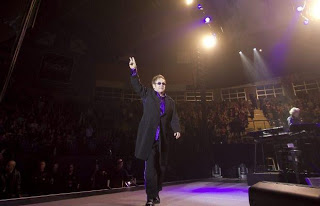 Decades before Lady Gaga emerged from her insect egg, Elton John had perfected the art of kitschy pop performance.
Back in the day, Sir Elton — an ordinary-looking, bespectacled duffer — used to out-Liberace even Liberace. Remember the feathers, the boas and the bizarro-world eyeglasses? (I remember, with particular fondness, Sir Elton's Donald-the-Sailor-Duck costume.)
The 2011 model Elton, performing the first of two shows in Victoria last night, was less spectacular — at least sartorially speaking. Playing a Yamaha grand, the singer-pianist sported a long, black jacket with a glittering pin-up girl on the back. Spectacles? A subdued purple, matching his shirt.
John and his band turned up the energy for his marathon show early, launching into a rocker, Saturday Night's Alright for Fighting, replete with Jerry Lee Lewis-style riffs. And then Elton leaped to his feet, saluting the audience, even the unfortunate punters stuck behind the stage.
Levon followed. It's one of John's stronger compositions, a gospel-style ballad that, in concert, transmogrified into a rave-up. The pianist soloed hard, alternating between stabbed chords and arpeggiated figures, while female singers provided gospel back-up.
Madman Across the Water was even better. Here John truly stretched out, offering an extended, sometimes jazzy workout that cheekily quoted The Girl from Ipanema.
Later in the concert, the piano-man, seemingly in an affable mood, played material from The Union, his new album with Leon Russell. But mostly, it was the good ol' hits that just kept coming.
John has played Tiny Dancer thousands of times, yet he made it sound immediate and fresh. Vocally, he was strong. As he launched into the song's refrain — "Hold me closer, tiny dancer" — a guy near the front did a frenzied green-glow-stick dance.
Enthused fans — predominately baby boomers — were in the mood. Some wore crazy glasses with flashing lights. Others sported top hats. A woman sitting near me wore a retro red-and-white ballgown.
Philadelphia Freedom, offered at a slower, somewhat lumbering tempo, spurred the front rows to their feet. John asked the audience to sing along on Goodbye Yellow Brick Road — again showing he was in good voice by bull's-eyeing the high-register notes.
We heard such sing-along favourites as Daniel (with a quirky little synthesizer solo) and Rocket Man (which spurred a girl next to me to emit a righteous "Whoooo!").
Rocket Man was offered in extended version. Towards the end, a surprisingly delicate piano cadenza followed spacy synthesizer shwooshes. Things got even more psychedelic, with John repeating a "Rocket man, rocket man" refrain as rainbow-coloured lights glimmered. And then the Rocket Man offered a funky, syncopated Leon Russell-style solo. Pretty good.
Nothing topped Take Me To the Pilot, which benefited from John's extended piano introduction. This was a virtuoso turn, tapping into R&B, pop, classical, pop and boogie-woogie.
At press time the show approached the three-hour mark. The concert included Funeral for a Friend, Crocodile Rock, The Bitch is Back, Candle in the Wind, Bennie and the Jets, Don't Let the Sun Go Down on Me and Your Song. It's a safe bet Tuesday night's audience won't be disappointed.
COMMENTS
There aren't any comments yet.
Comments are closed.