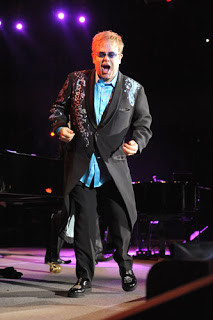 For most, Someone Saved My Life Tonight is just another classic rock song.
For Linda Hannon, it's a pointed reminder of a very turbulent, confusing and painful time in her life.
In the summer of 1970, Hannon (then going by her maiden name, Woodrow) was engaged to a struggling musician, sharing a flat in London's East End with him and his collaborator, supporting all three of them with secretarial work. She had been in the relationship for nearly two years, but less than a month before the nuptials, Hannon's beau returned home late — around 4:30 a.m. — from a night of drinking with friends and told her it was over.
"I was devastated," Hannon, 66, says now, perched politely on the edge of her couch in her home in a quiet Euless subdivision. "My whole family was feeling for me, because they were expecting a wedding."
The musician who got away was Reginald Dwight, best known to the world now as Elton John.
Four years after his failed suicide attempt and his canceled wedding, with the release of the seminal 1975 album Captain Fantastic and the Brown Dirt Cowboy, John and lyricist Bernie Taupin framed the whole episode as a harrowing near-miss.
That's Hannon being referenced in Tonight's emotionally charged chorus: You almost had your hooks in me, didn't you dear/You nearly had me roped and tied/Altar-bound, hypnotized.
"In a way, I was disappointed," Hannon says. "It was Bernie that actually wrote the words. … Bernie has probably said more negative things than Reg has … I mean, unbelievable things that were said. In some of the songs, I was very hurt."
Decades without contact
Hannon says she has moved on, but upon learning that John, along with fellow '70s survivor Leon Russell, would be performing in Fort Worth on Saturday, she felt compelled to reach out to the press in an attempt to facilitate a meeting, however brief.
She says she isn't after money, fame, sparking romance anew or even, really, setting the record straight. (Indeed, Hannon says much of what journalists and biographers have written about her over the years is wildly inaccurate. For instance, she doesn't hate John's music, as has been reported: "I have all his music; my sons have all his music.")
Since he walked out of her life four decades ago, Hannon has not had any communication with John.
"I suppose I just carried on and put it down to an experience," Hannon says. "As he got more and more famous, I thought, 'Wow.' It was incredible. I never at that time imagined he would be who he is today."
When contacted for this story, John's representatives said he was not available for comment.
'There's no bitterness'
Hannon moved to the United States in 1984. The native of Scotland has made her home in North Texas for the past 15 years, and now lives just west of Dallas/Fort Worth Airport. Retired and single, she shares her cozy, inviting home with several pets. She has three sons from a previous marriage, all of whom live in North Texas, and three grandchildren.
The portrait she paints of her brief time with Dwight, as he transitioned from Long John Baldry's band Bluesology to solo artist, is tinged with wistfulness and nostalgia. According to Hannon, it was a joint decision to get married, even if "Reg" wasn't in the greatest financial shape.
"I even bought my own engagement ring," Hannon says. "His mother and I got on very well. She had ordered the wedding cake. We had found a flat in Mill Hill, and everything was fine."
Until it wasn't. In what has long since passed into lore, Baldry was the one who convinced Reg Dwight that marriage would end his music career before it ever got going. Baldry is quoted in David Buckley's 2007 Elton: The Biography as having said: "Oh, my dear, for God's sake, you're getting married, and you love Bernie more than you love this girl. This is ridiculous. Put a stop to it now."
There would be only one other woman in John's life, sound engineer Renate Blauel. Their 1984 marriage lasted four years. He came out as a gay man not long after they divorced; John met his current partner, David Furnish, in 1993, and the pair entered into a civil partnership in 2005.
When asked what she would say if she had the opportunity, Hannon paused briefly.
"I would like to see him," she said, "and tell him what I've been doing and about my three boys and my grandbabies … just rekindle a friendship with him.
"There's no bitterness there."
COMMENTS
There aren't any comments yet.
Comments are closed.