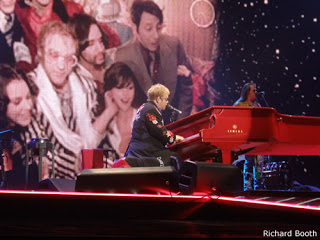 Twice last month when Sir Elton John performed here in Las Vegas for Andre Agassi and Justin Timberlake at separate charity events on The Strip, I reported rumors from highly reliable sources that talks were underway for the British superstar entertainer to return to Caesars Palace.
Now I can confirm that he'll be back at The Colosseum next year, two years after his residency ended there. Elton will resume his shows after Celine Dion's initial run of 70 performances a year for two years that premieres March 15. The legendary singer, pianist and showman returns to his theater home where he had alternated in a residency with Celine, Cher and Bette Midler beginning Feb. 13, 2004.
I was reliably told over the weekend that the 63-year-old award-winning singer-songwriter will be back for a regular run of shows. "You're going to see him here again at Caesars next year for sure," a top executive confirmed to me.
– Las Vegas Weekly
It probably will not be a repeat of his show Red Piano that ran at The Colosseum with 75 shows over three years that ended April 2009. "The trend now is for superstars to perform as we're currently seeing with Rod Stewart and Diana Ross here. You get the songs. You get the music. You get it stripped down to pure entertainment and not clouded over with high-lavish spectacle," I was told.
No word yet as to the terms of a contract with a number of shows over a period of time for a staggering $$ payday, but the deal is underway and definitely a go.
Celine returns to The Colosseum on March 15 with a full orchestra and band of 31 musicians for her salute to the romance of classic Hollywood movies, plus her own greatest hits. Tickets to date are on sale through Aug. 14, although she is taking off all of May. I'm told that tickets are selling at a faster rate much farther out than her A New Day shows here and that hundreds of visitors from as far away as Europe, Japan and Australia have purchased hotel and show packages.
Sir Elton could take some of the May dates or next year's late summer and early fall openings. It's also believed that Rod will commit to additional shows in the theater after his present run ends Sunday.
COMMENTS
There aren't any comments yet.
Comments are closed.