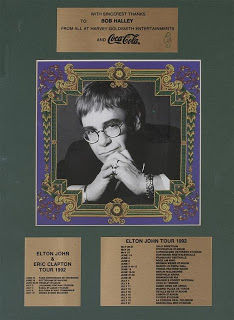 A unique collection of Sir Elton John memorabilia went under the hammer tonight.
More than 150 fans squeezed into the auction room to bid for items in the treasure trove of lots sold by John's mother Sheila Farebrother.
Bids for 227 items came in from around the world via the internet and over the phone.
Mrs Farebrother sold tour jackets, gold and platinum discs and VIP passes.
She said she wanted to make room as she down-sized to her new home on the South Coast.
Her items sold for a total of £25,970.
One of the gold discs – for US sales of Goodbye Yellow Brick Road – sold for £650, £150 more than reserve.
Discs were also sold by Sir Elton's former manager Bob Halley at the auction at Gorringes in North Street, Lewes.
A highly-prized collection of Sir Elton John memorabilia was sold at auction by his mother for STG28,820 ($A46,330) on Tuesday.
The treasure trove included more than 100 gold and platinum discs, tour jackets and VIP passes his mother, Sheila Farebrother, used for backstage access at his concerts.
Some of the top items included a music box modelled as a piano, which was a gift from Sir Elton, which sold for STG1,200 ($A1,929) and Mrs Farebrother's personal collection of records which sold for STG700 ($A1,125).
Advertisement: Story continues below
Also sold was a large American billboard multiple disc presentation for 43 million album sales in the Unites States, which fetched STG1,500 ($A2,411).
Mrs Farebrother said: "I am delighted with the success of the sale. His fans have been able to buy a slice of Elton history and the whole event has brought back some wonderful memories."
Mrs Farebrother sold the collection at Gorringes Auctioneers in Lewes, East Sussex, because she has downsized to a new home on the south coast.
She said: "From an early age Elton would love to perform at family weddings and birthdays.
"When his career as a performer began to take off I would go along to his concerts and my main concern was that he wouldn't forget any of his lyrics.
"It wasn't until the concert in Madison Square Garden in 1974 when John Lennon made an appearance on stage and sang with Elton that I realised he had become a world superstar."
Born Reginald Kenneth Dwight in Pinner, Middlesex, on March 25 1947, Sir Elton has sold more than 250 million records in a career spanning five decades.
His career has marked him out as one of the world's most successful musicians and his accolades include an Oscar and Grammy awards.
He established the Elton John Aids Foundation in 1992 and went on to be knighted in 1998. He celebrated his civil partnership with David Furnish in 2005 at Windsor Guildhall.
Andrew Elliston-Elhinn, of Gorringes, said: "It is one of the most interesting sales we have ever had and we have already seen international interest from buyers.
"Nothing like this has been seen since an Elton John sale back in 1988, which was different because it didn't include quite so many benchmark items from his career, whereas this sale has so many more.
"His mother used to have a large games room with shelf upon shelf to store all the things he had given her but since moving she doesn't have the room anymore.
"Some of the items are autographed but, as his mum said, 'Why would he sign things for me? I'm his mum'."
A second collection of Sir Elton items raised a total of 42,305 including 2,300 for a Theo Fennell 18ct gold cross and 320 for a group of 35 Elton John bobble-head figures.
All the prices exclude buyer's premium of 20 per cent and VAT.
COMMENTS
There aren't any comments yet.
Comments are closed.