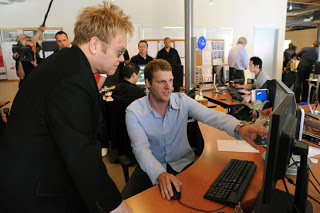 Warning of the fleeting fame that comes with shows such as The X Factor, he said: "I'm not a fan of talent shows. I probably wouldn't have lasted if I'd gone on one. I was asked to judge American Idol. I couldn't do it because I won't slag anyone off.

"Also, I don't want to be on television. It's become boring, ****-paralysingly brain crippling. I like Simon Cowell, but what he does is TV entertainment.

"There have been some good acts, but the only way to sustain a career is to pay your dues in small, s**t clubs.


"I was in a band at 17, became a songwriter with Bernie Taupin and wasn't successful until we'd had six years of hard graft and disappointment, as well as great times. I had experience you couldn't buy."
And although the singer performed with Alexandra Burke, one of the show's winners two years ago, he warned that the careers of those who win the show can often end overnight if they release just one unsuccessful record.
"TV vaults you to superstardom and then you have to back it up, which is hard. Leona Lewis and Alexandra Burke are at the mercy of the next song they can get.
"Susan Boyle was an endearing phenomenon, but I fear she might not understand the rigours of showbusiness."
In fact, there are only a handful of contemporary artists who Sir Elton believes are likely to achieve longevity.
"Lily Allen is incredibly talented and can do anything she wants – act, sing, write. I'm also a huge fan of Lady Gaga. And I adore Amy Winehouse," Sir Elton told Radio Times magazine.
"It's important they write their own songs, so they're not at the mercy of anyone. Songwriters today are pretty awful, which is why everything sounds the same. Contemporary pop isn't very inspiring."
He also believes that experienced stars are being overlooked for honours, while unproven entertainers are being elevated to superstar status because of TV, with The X Factor UK commanding audiences of up to 20 million.
The singer added: "I grew up with 
Sunday Night At The London Palladium
 and it's an outrage that Bruce Forsyth hasn't been knighted.
"I told him that and wrote a letter to the honours committee. He's part of our lives, like Rolf Harris – a clever, incredibly witty man who always made me feel good."
COMMENTS
There aren't any comments yet.
Comments are closed.