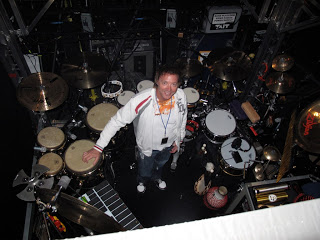 For 13 years, John Mahon has been traveling the world as a full-time member of Elton John's band. A 1973 graduate of St. Thomas Aquinas High School, he has played about 700 shows to date.
A backing vocalist and percussionist in the band, Mahon will be onstage at Youngstown's Cavelli Center on Saturday night for the arena's sold-out Elton concert.
Mahon, a professional musician who had been based in Los Angeles since 1980, was hired for Elton's band in 1997 after a friend arranged for him to audition with Elton's bandleader, Davey Johnstone.
Since that fateful day, Mahon has found himself performing  for more than 100,000 people at the Carnivale in Rio de Janeiro, 200,000 people at the Coliseum in Rome, and 500,000 in London's Hyde Park. He has met Billy Joel, Tina Turner, Sting, Cher, Gene Hackman and many other luminaries.
Back in Canton for a few days this week, Mahon talked about life on the road with an international rock superstar.
Q. Can you give me a preview of the Youngstown show?
A. This show is two and a half hours and definitely big Elton John hits all the way from beginning to end: "Tiny Dancer," "Daniel," "Rocket Man," "Benny and the Jets," "Candle in the Wind," "Someone Saved My Life Tonight," "Your Song," "Saturday Night's Alright For Fighting."
Q. Do you have much contact with Elton offstage?
A. Elton loves to come into our dressing room before the show and basically hang out with the boys and act stupid. Sometimes we'll throw food at each other like little kids. We talk about the previous night's show, and Elton loves to talk sports. He's just nuts about soccer, which they call football, and he's a big Atlanta Braves fan because he lives in Atlanta.
Q. So how crazy is Elton's tour itinerary?
A. In March, we flew to Dubai for two days, 16 hours nonstop from Los Angeles, that trip really beat me up. We played with Santana there, then the next weekend I played in front of the pyramids outside Cancun. In five days in May, I'm going to play Morocco, Denmark, London and Poland. I have been gone for almost four months at a stretch, which is different if you're a college kid.
Q. It sounds exciting and exhausting.
A. I think I'm in a constant state of jet lag. I really have to exercise and watch my diet and hopefully sleep. A lot of what takes it's toll on you when you're jumping from city to city is just dragging your suitcase around and trying to get your laundry done and finding a nice cup of coffee. Imagine going to a restaurant in Serbia and trying to figure out the menu.
Q. Is it challenging to play the same songs night after night and keep it fresh, especially with all the traveling you're doing?
A. It's really the audience we feed off of. Some nights you're beat up and worn out but when you look out there and see people screaming like they've just won the lottery because you're playing "Benny and the Jets," it definitely gives you a pump of adrenaline immediately.
Q. Does your wife (Canton native Pam Tortola Mahon) join you on the road very often?
A. My wife likes to travel to the cities where she can shop — New York, London, Chicago. We went to Rome last summer and the winter before that we went to Paris. We're going to be married for 30 years this year.
Q. Tell me about your very first concert with Elton John. I imagine you were a little nervous.
A. The first show was at a castle in Germany, but we'd rehearsed for four days in Nice. I remember traveling to the south of France and staying in a hotel on the Riviera and thinking, "I don't even need to get paid for this!" Elton came over to me the first day of rehearsal and introduced himself. He couldn't have been any nicer or more cordial. I'd never met a superstar. He was real cool.
Q. Do you take a lot of photos on the road?
A. I do. I have a website — www.johnmahon.com — and there's a gallery there.
Q. So … playing in Elton John's band is not a bad gig, huh?
A. Like anything, it becomes your job. This is not an easy route. But I could think of a lot worse things to be doing than making a good living playing music.


COMMENTS
There aren't any comments yet.
Comments are closed.