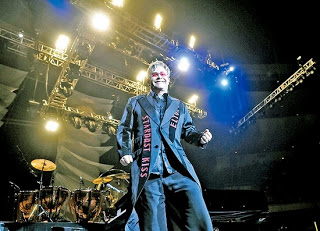 Meet Elton John and sit in the FRONT ROW at a concert anywhere in the world on his current tour!
Meet the legendary Elton John and see him perform his countless hits! This timeless artist has sold more than 250 million albums and is one of the most successful and enduring performers in history. The Oscar, Grammy, Tony and Golden Globe winner has provided the soundtrack to our lives with such timeless classics as "Your Song," "Rocket Man," "Daniel," "Goodbye Yellow Brick Road," "Candle in the Wind," and dozens more. The winner of this auction will get to see this living legend perform live and enjoy a meet and greet with Elton. Truly a one-of-a-kind experience of a lifetime!
The Package: This auction includes two FRONT ROW seats (valued at approximately $200 each, including tax and fees) to an Elton John concert in North America, Europe or Israel between June 10, 2010 and Dec. 1, 2010. There will be a MEET AND GREET experience for both guests with Elton John either before or after the performance. The meet and greet will take place in a special backstage green room area.
Date: Concert will be one of Elton John's dates in North America, Europe or Israel between June 10, 2010 and Dec. 1, 2010. If you or your guest has a scheduling conflict with any of the dates above, you must notify us at the time of submitting payment. Dates can be found at eltonjohn.com.
The Meet & Greet: A chaperone will escort you and your guest to meet Elton John either before or after the show for the meet and greet. Details will be coordinated closer to show. Other special guests, chaperones, and/or security may be present. If desired, Elton John will sign up to two pieces of memorabilia for you. Photographs with him will be at his discretion. Please note that cameras are often not allowed in venue, although camera phones are permitted. Please check the rules of your participating venue before the show.
Additional Details: Transportation, accommodations, and any expenses are NOT included and are the responsibility of the winning bidder.
COMMENTS
There aren't any comments yet.
Comments are closed.