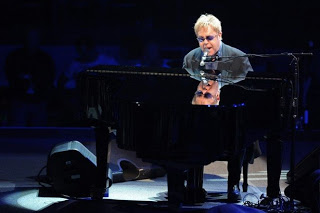 With his stock still rising in 1976 as the planet's biggest rock star, the zanily bespectacled Elton John toured mammoth U.S. stadiums sporting a Statue of Liberty costume and other furry, flashy, flamboyant, over-the-top attire.
The 29-year-old keyboard king churned out 19 songs as he scurried across the stage and repeatedly leapt off of his gargantuan piano, at least according to notes I scribbled on my wrinkled concert program from that "Louder than Concorde But Not Quite as Pretty" tour that stopped at the Pontiac Silverdome.
On Saturday night in Grand Rapids' Van Andel Arena, the now 63-year-old Elton didn't do much scurrying — just the occasional stage-stalk, double fist-pump and awkward finger-pointing salute.
He never once sprang off of his black Yamaha grand piano, never attempted one of those trademark keyboard handstands he regularly pulled off during his glory days.
OK, he did clamber up on his bench after an eye-popping, rollicking version of "Bennie and the Jets" and put one foot atop that piano before gingerly hopping back down to terra firma.
But make no mistake, this now venerable, less gaudy superstar (who did wear a snazzy long black jacket adorned with an image of himself climbing out of the jaws of a crocodile) may be more on top of his live-concert game than at any time in his stunning career: He generated nearly non-stop musical sparks with his finger-acrobatics on piano and his razor-sharp five-piece rock band for nearly three hours, leaving the crowd of 12,000 fairly fatigued by his procession of hits.
He played 26 songs — seven more than he did during that Michigan stop 34 years ago — and demonstrated time and again with his lengthy blues- and boogie-drenched solos that he really has no equal in his mastery of the rock 'n' roll piano.
And perhaps even more impressively, this veteran rocker seemed happier and more appreciative of his audience than on any previous tour I've seen, frequently acknowledging the raucous applause, shaking hands with fans and signing autographs for several minutes prior to his encore.
"It's just so great to play a place like Grand Rapids," he gushed near the end of the show. "It's not all about places like New York City. It's about places like Grand Rapids, too."
Gregarious guitarist Davey Johnstone mirrored that sentiment backstage prior to the concert. He told me Elton and his band — drummer Nigel Olsson (an original Elton John Band member along with Johnstone), bassist and Detroit native Bob Birch, percussionist John Mahon and keyboard player Kim Bullard (replacing Guy Babylon, who died of a heart attack last September) — relish performing in smaller cities where they've rarely played before. He even praised the hospitality of the "nice people" of Grand Rapids.
So 11 years since Elton last performed a solo show here, and 13 years since his full band graced Van Andel Arena, the legendary rocker and his no-frills band unfurled a flawless set of familiar rock and pop songs. It started with the classical-meets-rock twofer "Funeral for a Friend/Love Lies Bleeding" from 1973's "Goodbye Yellow Brick Road" and ended with 1994's "Circle of Life" from "The Lion King" soundtrack, with plenty of electrifying hits in between.
With his once-distinctive tenor now a just-as-pleasing, more resonant baritone — partly due to surgery on his throat in the late '80s — Elton sang with power, emotion and more than a little bit of mugging and good-natured snarling, as he alternately pounded on the keys ("Saturday Night's Alright for Fighting," "delightful improvisational solos ("Madman Across the Water," "I Guess That's Why They Call It the Blues").
And on classics such as "Goodbye Yellow Brick Road" and "Someone Saved My Life Tonight," the backing harmonies of Birch, Mahon, Olsson and Johnstone were spine-tinglingly spot-on.
It made for an unusually entertaining show that blended recording studio-quality voices and carefully planned instrumental precision with clever twists on familiar melodies and hyper-extended solos that mostly spotlighted Elton's dazzling piano creativity.
"Some numbers have evolved to a different animal," Johnstone had said in an earlier interview, joking that "Rocket Man" had morphed into a 20-minute beast in concert. "We do take that time to jam around and do what we want to do with that song a little bit."
Well, "Rocket Man" didn't last quite 20 minutes Saturday night, but the 14-minutes-plus version boasted all sorts of dynamic changes, musical drama, looped echoing vocals and enough goosebump moments to rev up baby boomers as well as the surprisingly large number of teens and 20-somethings in the house. Much like The Beatles, Pink Floyd and Led Zeppelin, it seems the enduring music of Elton John still resonates with younger audiences.
And to think Elton played barely half of the 50 Top 40 hits he's scored over the past four decades.
There were subtle moments of brilliance to savor too: the tasteful piano flourishes on "Levon" and "Don't Let the Sun Go Down on Me," the tender delivery of a new song, "You're Never Too Old," that Elton wrote recently with his piano hero Leon Russell, the funky Russell-influenced
riffs on "Honky Cat."
Then there was the almost-casual, jaw-dropping piano work on a rousing "The Bitch is Back." That romp of a tune also had Elton slamming the piano lid down in time to the music while the word "Bitch" flashed on the video-screen curtain behind the band, thus proving that even at 63,rock can still be a tad rebellious.
Yes, thankfully, Elton's "still standing," as he crooned proudly at one point. And to borrow a line from yet another Elton classic, this also meant Saturday night was all right … even way better than all right.
COMMENTS
There aren't any comments yet.
Comments are closed.