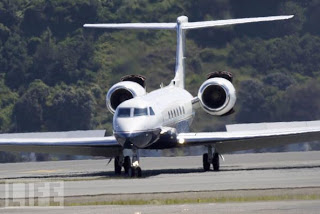 Fatigue and broken equipment contributed to a private jet pilot, believed to be flying British rock legend Sir Elton John, to attempt to use a taxiway rather than the main runway to fly out of Brisbane in 2007, an aviation safety investigation has concluded.
The pilot only abandoned the unsafe take-off when an air traffic controller instructed him to.
The incident occurred at 10.25pm on November 25, 2007, the same day Sir Elton performed his Rocket Man Solo Tour – A Knight Under The Stars at Canungra, near Mount Tamborine.
It is understood the musician was on board the Gulfstream aircraft, which was privately chartered to fly to Sydney after landing in Brisbane earlier that day.
The Australian Transport Safety Bureau would not comment on the plane's passengers or crew for privacy reasons.
The investigation concluded this week that pilot fatigue, broken cockpit equipment, inadequate cockpit practices and unfamiliarity with the airport were likely to blame.
The pilot told investigators he had "felt tired" after flying from the United Kingdom via Japan in the past week and had had only two to four hours sleep at a time.
He slept just nine hours in the 72 hours before the incident.
The co-pilot was well rested but was inexperienced, so the captain had refused to allow him to take off or land when passengers were onboard, the report says.
The pilot said his electronic chart was not working at the time of take off and he had expected the copilot to monitor the taxi route.
Investigators found there had been a clear lack of communication.
"The co-pilot was not aware that the aircraft was not on the runway during the attempted takeoff," the ATSB report says.
An airport safety officer on the ground reported the plane to the airport aerodrome controller, who ordered it to stop.
The crew were allowed to reattempt the take-off ten minutes later.
No one was injured and there was no damage to the aircraft or airport infrastructure.
COMMENTS
There aren't any comments yet.
Comments are closed.