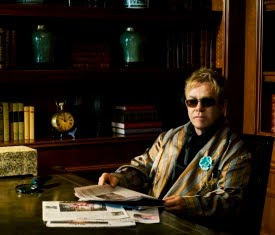 Elton John is planning a return to the stage – the "Rocket Man" is ready to write another musical. The singer has previously composed scores for theater hits "Aida" and the "Lion King", as well as "Billy Elliot the Musical", based on the 2000 film, and insists he is eager to begin working on another theater project.
He tells Britain's GMTV, "I'm in the right mood to write a musical now. It's been a long time since I wrote 'Billy Elliot' and then I had a musical called 'Lestat' which ran for about four months, and closed… It was about vampires, which are very en vogue but they weren't (then). I've had my flops as well as my hits but I'm ready to write again. I have no idea what it's going to be about (but) not about bats!"
But the star admits being a part of live stage shows can be nerve-wracking, stating "When you're in the audience, you're not in control. When I go on stage, I'm totally in control of what I do and if anything goes wrong I'm in control of that. If you're sitting in the audience and something goes wrong – actors forget their lines or something goes wrong with the music – you're sitting there thinking, 'Please God, please God'."
– Aceshowbiz.com
Elton John has revealed he's happy to have persevered with his Disney film.
Gnomeo And Juliet was rumoured to be in trouble after a series of setbacks, but the Rocket Man confirmed the movie is back on the road and will be released next year.
"We've had so many ups and downs with it, with changes at Disney but we kept going with it because we believed it was a really great project," said Elton.
He went on: "It is a great project and we're very happy with it and it's coming out next year."
The movie, which is set to feature classic and new songs by Elton, is set to star Emily Blunt and James McAvoy.
COMMENTS
There aren't any comments yet.
Comments are closed.