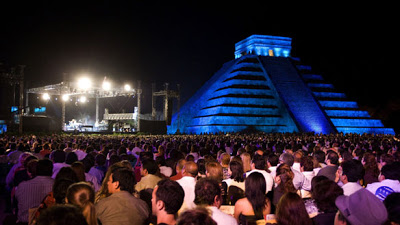 CHICHEN ITZA, Mexico — Pop legend Elton John has entertained thousands of fans at an open air concert at the ancient Mayan pyramids of Chichen Itza in southeastern Mexico.
Nearly 6,000 spectators who paid between 80 and 800 dollars (60-600 euros) per ticket heard some of the British singer-songwriter's most popular classics on Saturday, with the pre-Hispanic Temple of Kukulkan as a backdrop.
The concert went ahead amidst the majestic pyramids despite indigenous leaders' complaints and an accident Thursday that saw the stage collapse, injuring three workers.
Local Mayan leaders complained the concert was irreverent and out of place. They said Thursday's accident was the work of "aluxes," the Mayan culture's equivalent of fairies, who were upset because their gods' permission for the concert was lacking.
At the concert, John cheered fans with hits like "Sacrifice," "Tiny Dancer" and "Rocket Man." He closed the show with "The Circle of Life."
Ever since his arrival Saturday afternoon on a private jet from London, John was protected by a police and military operation with hundreds of officers who also set up roadblocks at the entrances to the archeological site. He was scheduled to leave Mexico within hours of his performance.
The state of Yucatan, home to Chichen Itza, is considered one of the safest in Mexico, where a brutal drug war has killed over 15,000 people in the past three years.
John was the fourth major international star to perform at Chichen Itza, a UNESCO World Heritage site, after British soprano Sarah Brightman (2009), Spanish tenor Placido Domingo (2008) and Italian tenor Luciano Pavarotti (1997).
These events have triggered protests by some indigenous leaders, who accuse the Yucatan government of jeopardizing what remains of the ancient ceremonial site to profit from elitist performances.
MERIDA, Mexico — Organizers said a concert by Elton John in the ruins of Chichen Itza would go ahead Saturday even after the stage collapsed injuring three workers and complaints from indigenous Mayans it was irreverent and out of place.
Thursday's accident, caused by a collapsing 80-meter (262-foot) metal tower, left one worker with serious leg injuries.
The announcement rankled local Mayan leaders and officials, who pointed out that perhaps the accident was the work of "aluxes," the Mayan culture's equivalent of fairies, who were upset because their gods' permission for the concert was lacking.
"With each concert, in the early morning, a ritual is performed to ask for permission, and this time it was not done," Yucatan state public works secretary Francisco Torres told the Reforma daily.
As with previous concerts by Spanish tenor Placido Domingo in 2008 and British soprano Sarah Brightman in 2009, Mayan leaders, archaeologists and some say even the local gods, resent the sacred ruins being used for profit-seeking entertainment.
Forty researchers from the National Institute of Anthropology and History, which takes care of the Chichen Itza complex, recently published their complaints about Saturday's musical event in local media.
Chichen Itza "is no scenery for an artist to show off, for the enjoyment of an elite or for the political and economic benefit of a small group of people, as well as powerful multinationals," wrote the scientists.
The concert venue near Merida has a 6,000-seat capacity that is 90 percent booked, with ticket prices ranging from 80 to 800 dollars — putting it clearly out of range of the local Maya population.
Valerio Canche, a Mayan priest who heads the "Mayao'b" religious group, told AFP he regretted "the great discrimination the authorities are inflicting on our brothers of the Maya race."
Meanwhile, local authorities earlier this week announced they had purchased the land on which the Chichen Itza ruins stand from private individuals for 17.6 million dollars.
And without missing a beat, they announced that former Beatle Paul McCartney was next in line to hold a concert at the Mayan ruins.
– AFP
SETLIST
Funeral For A Friend / Love Lies Bleeding
Saturday Night Alright (For Fighting)
Burn Down The Mission
Tiny Dancer
Levon
Philadelphia freedom
Goodbye Yellow Brick Road
I Guess That's Why They Call It The Blues
Daniel
Honky Cat
Rocket Man
Sad Songs (Say So Much)
Take Me To The Pilot
Sorry Seems To Be The Hardest Word
Sacrifice
Don't Let The Sun Go Down On Me
All The Young Girls Love Alice
Candle In The Wind (solo)
Bennie And The Jets
The B*tch Is Back
Crocodile Rock
I'm Still Standing
Your Song
Circle of life
COMMENTS
There aren't any comments yet.
Comments are closed.