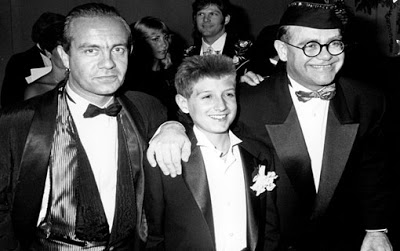 Sir Elton John is making a special trip to Indianapolis next month to lead a celebration of the life of Ryan White — a Kokomo teen who died of AIDS 20 years ago in April — The Children's Museum is announcing today.
White's mother, Jeanne White-Ginder, who lives in Florida, said Monday that she wrote the superstar a note, asking whether he would perform in honor of her son, who died April 8, 1990, at age 18.
John was a pallbearer at White's funeral, along with Howie Long and Phil Donahue, who, Ginder said, will be the event's emcee.
"This is going to be a historical moment," said Jeffrey H. Patchen, president and chief executive officer of the museum, which houses White's former bedroom in its permanent "The Power of Children: Making a Difference" exhibit.
John will take the stage April 28 at Clowes Memorial Hall at Butler University. It will hold about 2,100 for the event, according to The Children's Museum.
White contracted HIV/AIDS through a blood transfusion, then struggled to continue to attend school. John became a friend after the boy said he admired the singer because he didn't mind being unique, Ginder said.
A select number of event tickets will be offered to the public. They will go on sale at 10 a.m. April 5 at the Clowes box office and through Ticketmaster for $150 to $350.
Proceeds will support the museum's "Power of Children" exhibit and the Elton John AIDS Foundation.
COMMENTS
There aren't any comments yet.
Comments are closed.