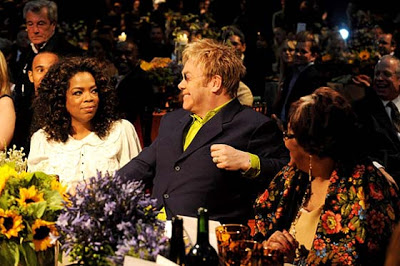 Are you gaga for this music ICON? Have you followed his four-decade career? Do you know EVERY word to EVERY one of his songs?? Are you inspired by his philanthropic efforts and his work for the Elton John AIDS Foundation? Will you be the first in line to buy his new album, "You Are Never Too Old" when it is released this fall? Which Elton John song could be the soundtrack of YOUR life?
If you are THE BIGGEST fan of Sir Elton John, email us now!
OPRAH.com
Filming for this episode is scheduled for mid April.
T&C;: Stories, ideas, suggestions, essays, audio, video, photographs or related materials and any other materials of any kind whatsoever submitted (hereinafter, the "Submissions") will not be returned or kept confidential. All such Submissions may be used: (i) on www.oprah.com (the "Website"); (ii) for broadcast or other publication by Harpo, Inc. or any of its affiliated companies or entities, including, but not limited to, The Oprah Winfrey Show, Harpo Productions, Inc. and Oprah & Friends, Inc. (collectively "Harpo") or its related companies or entities, including without limitation, The Oprah Winfrey Show, "The Oprah Winfrey Network" and distributed in all markets and media worldwide and in perpetuity. By submitting the above, you acknowledge and agree to the following terms and conditions and consent to your name and geographic location possibly being published in connection with the publication, distribution and/or broadcast of your Submission(s).
1. The Submissions may be shared with The Producers and/or developers of The Oprah Winfrey Show and/or other Harpo Productions, Inc. (or its related entities, including, without limitation, Oprah.com and OWN) related programming.
2. Neither Harpo nor any of its affiliated companies or entities are obligated to use or pay you for any Submission.
3. It is possible that similar Submissions may be submitted to Harpo by multiple sources and that a Submission may be similar to ideas generated or developed independently by Harpo employees.
4. All Submissions shall become the property of Harpo, may be edited for length, clarity and/or functionality, will not be subject to any obligation of confidentiality, may be shared with and used by the staff of Harpo and any of their affiliated companies or entities and shared with legal authorities if Harpo believes it warranted. Neither Harpo nor any third or other party with whom Harpo shares the Submissions shall be liable for any use or disclosure of any information or Submission that you submit.
5. Harpo shall exclusively own all known or later existing rights to the Submissions worldwide and shall be entitled to the unrestricted use of the Submissions for any purpose in all media now known or hereafter discovered without compensation to the provider of such Submissions.
6. Harpo reserves the right to change due dates for Submissions, or other specifics, as it deems necessary in its sole and exclusive discretion.
7. By providing the Submissions, you represent and warrant that you are at least twenty-one (21) years old.
8. No Submission may contain any material that is abusive, vulgar, threatening, harassing, libelous, defamatory, obscene, invades a person's privacy, violates any law, any intellectual property or other property or other rights, or is known to be false.
For more information about Oprah.com's privacy policy click here.
Please note that we cannot reply to all e-mails sent to us or guarantee that your e-mail will be or will be immediately read; further, we cannot always review every e-mail that we receive.
COMMENTS
There aren't any comments yet.
Comments are closed.