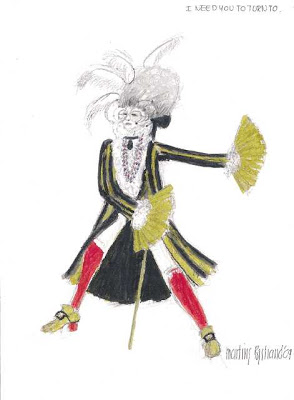 Reporting from Calgary, Canada – Twenty toned and lithe dancers shook their hips in exaggerated movements, pounding Dodger blue baseball bats into the ballet studio floor in time to the staccato beats of Elton John's "Bennie and the Jets." "You're giving me hips, but you're giving me ballet hips. I want jazz hips," said the energetic choreographer, orchestrating his troupe. "Make a caricature out of it. . . . How much chin can you give me? It's gotta be tight — think Rockettes, almost. Tight, tight, tight!
"Listen! He's grinding his voice into the asphalt there. Boom!"
The emphasis on sharp movements of the hips, elbows and chin is all part of Jean Grand-Maître's plan to use dance to tell the story of pop star Elton John's life in "Love Lies Bleeding," a contemporary ballet about the singer, set to premiere in Canada in May.
Grand-Maître, the Quebec-born artistic director of Alberta Ballet — who also just choreographed the opening ceremonies for the Vancouver Olympic Games — has been working for a year as the mastermind of the John ballet, having put together the soundtrack, written the libretto and amassed the design team in addition to doing the choreography.
"It's a visual abstract of my life," John said, phoning during a break from recording in an L.A. studio, in his first interview about the ballet. "It's about the dark side of my life as well as the bright side of my life."
It all begin when Grand-Maître picked up his phone and was shocked to hear who was on the line. "It was a call from one of the biggest pop stars in history — at first I thought it was a joke," he said.
John approached Alberta Ballet because of the singer's ties to Joni Mitchell, the Alberta-born singer whose music and paintings formed the basis for Grand-Maître's critically acclaimed "Joni Mitchell's The Fiddle and the Drum" (which the company will perform this week in Irvine and at UCLA). Mitchell's enthusiastic reviews of the company's treatment of her own music caused John to request the video and to meet with Grand-Maître and six dancers when John performed in Calgary in September 2008.
After that meeting, Grand-Maître didn't think any further connection was possible because the company's performing schedule was full. But in what Grand-Maître calls a case of "extraordinary serendipity," the company's touring schedule was changed to accommodate "The Fiddle and the Drum's" performances at Vancouver's Cultural Olympiad (and consequently, this month's L.A. dates). This opened a slot for Grand-Maître to create a new ballet for May, when the company usually tours.
"I was very flattered at what [Grand-Maître] proposed," the singer said, recalling when the two met in Las Vegas last February. "I'd given him free rein to do whatever he wanted. . . . He's a remarkable choreographer."
In several conversations about the ballet, Grand-Maître emphasized the narrative story line more than the dancing, saying: "The ballet is the story of a young child from a neighborhood outside of London who was never meant to be a superstar."
The "Bennie and the Jets" number, for instance — which features dancers in sequined baseball uniforms and a spinning record that serves as a revolving stage for the lead dancer — opens the ballet as an ode to John's 1975 mega-concert at Dodger Stadium, which Grand-Maître called "the coming-of-age of a mega-superstar."
Other numbers — including several with demon characters inspired by "A Clockwork Orange" and set to songs including "Have Mercy on the Criminal" and "The King Must Die" — look at John's struggles with drug addiction and coming out, while the second act opens with "Sixty Years On," a gay pas de deux danced under the Sword of Damocles as a symbol for AIDS.
"It's very homoerotic," John said. "It's very on the money about my life."
John said he has no qualms about sharing his darkest moments — including his struggles with coming out and the depths of his past drug addiction. "The truth is the best way," he said.
Set to 15 songs by John and his writing partner Bernie Taupin, the Alberta Ballet production premieres in Calgary on May 6, with John planning to attend. A worldwide tour is expected to follow.
Grand-Maître describes the $1-million ballet as melding Bob Fosse-inspired jazz choreography and classical ballet en pointe with urban hip-hop, rollerblading, drag queens and Cirque du Soleil-style acrobatics. Broken mirrors, white powder, homoerotic angels and a spinning piano are among the imagery used in the production.
"The words we use with the designers are 'burlesque,' 'Fellini,' 'social commentary,' 'surrealism,' " said Grand-Maître, referring to the influences he's calling upon to capture the mood of John's sometimes outlandish persona and costumes. "It's the aesthetics of Elton John — this burlesque, Fellini freak show — and that's because he was so shy; he was a superstar making fun of himself."
Grand-Maître said he developed his story line after conversations with John, in which the singer revealed "very personal, private things" about his life, such as lamenting his early inaction against the AIDS crisis (since 1992, the Elton John Aids Foundation has raised more than $175 million). He describes the three main narratives as a "story of triumph" in which John "succumbs to addiction but resurrects himself through acts like charity and love" with his partner David Furnish (a Canadian), a look at the excesses and perils of pop stardom, and "the repression of homosexuality."
The ballet's choreography was marked in July and August, Grand-Maître always asking his dancers for "a little more," uttering such directions as "more juice in the torso" and "put some Viagra on these elbows."
Continually tweaking the choreography as he watched his dancers in action, Grand-Maître frequently sought their suggestions.
Yukichi Hattori, 29, one of two company dancers scheduled to take on the Elton role, said, "It's like we build our languages together."
For Kelley McKinlay, 26, the production's other lead dancer, one big challenge of the choreography was learning to work with rigging, when his character "flies" on a wire during "Someone Saved My Life Tonight."
"To have that in a ballet, per se, is pretty cool. And then there's the roller skates [with fire coming out during "Rocket Man"] . . . and the spinning record. I can't imagine any other dancer in the world saying, 'Oh yeah, I did that in a ballet.' "
Although calling the ballet "a collaboration between artists," Grand-Maître notes that John has been much less involved than Mitchell was with "The Fiddle and the Drum." John's role is technically as a "consultant," with Grand-Maître communicating with John mostly via e-mails sent through John's creative manager, his "private valet," or through Furnish. John has thus far seen none of the choreography and even asked this reporter to describe rehearsals she'd seen. The last scheduled meeting between John and Grand-Maître has been canceled twice, once because of a change in John's touring plans and again when John had the flu.
John was, however, consulted in the song selection, and initially approved the ballet's soundtrack, Grand-Maître said, but later asked for two song changes — including replacing the little known "Love Song" with "Goodbye Yellow Brick Road" for the number in which John first begins to battle his demons. That piece, a soft-shoe tap sequence complete with men in heels and women with whips, was already fully rehearsed — sending Grand-Maître scrambling to adapt his choreography into a new song.
John also selected "The Bridge" for the ballet's AIDS metaphor, Grand-Maître said. And later, well after the company had begun promoting the ballet simply as "Elton," John requested the name be changed to "Love Lies Bleeding," which he told The Times is "one of my favorite songs from 'Yellow Brick Road,' and I thought it just summed up the title of my life much better."
The choice seems apropos given that John paired the song on the 1973 album with "Funeral for a Friend," an instrumental John said then was the kind of music he'd like played at his own funeral; the ballet begins in an abandoned theater, with the lead dancer — initially known as "The Spectator" — reliving the superstar's life in a fan's fantasy 100 years after John's death.
Dancer Hattori said of his interpretation of the Spectator/Elton John character: "Deep down, this person just wants to express himself, but he is very introverted, he has to put a mask on to reach out to people. He has a strong desire to be out there and be heard.
"[Maybe that's why John] went overboard with decorating himself and playing something he's not. It builds up frustration — kind of a schizophrenic dilemma — when you're not really yourself."
COMMENTS
There aren't any comments yet.
Comments are closed.