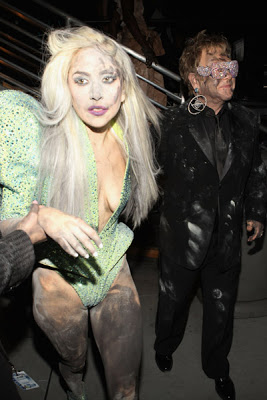 Lady Gaga opened up the Grammy Awards with her usual (or perhaps unusual) style with a green glittery dress, shoulder pads and high heels. The high-energy 'Poker Face' performance was short and as previously reported, the song switched over to her duet with Elton John. Both he and Gaga were pushed out on stage to duet with dueling pianos to 'Speechless' and 'Your Song.' Both emerged with large, sparkly glasses with faces painted in what looked to be ash. The two traded off verses at times, while simultaneously playing the piano.
"How wonderful life is with Gaga in the world," John said at one point, altering the lyrics of his classic.
At the beginning of the performance, the curtain went up as an army of dancers emerged from the crowd to tout Gaga as some kind of living doll, shouting, "The real Gaga comes complete with five #1 singles … and she has no soul!" After singing 'Poker Face,' Gaga was dragged off the stage.
Seconds later — now covered in ashes — she appeared again, sharing a piano with John , who was also covered in ashes, sparkly sunglasses and a galactic Gaga-inspired earring. The piano was topped with severed mannequin arms, also flashing her "monster" hand sign. They sang 'Speechless' trading verses and then switched to 'Your Song,' his 1970 hit. The house gave them a standing ovation at the end of their performance.
Earlier in the day, Lady Gaga picked up two Grammy awards in the dance category as 'Poker Face' won for Best Dance Recording and 'The Fame' won for Best Electronic/Dance Album. Gaga is also up for the big three tonight: Album of the Year, Record of the Year and Song of the Year. Gaga's look on the red carpet was an entirely different look from her performance getup.
COMMENTS
There aren't any comments yet.
Comments are closed.