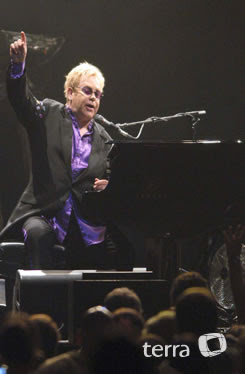 Chart-topping, hit-making music legend Sir Elton John will spend an evening in Corpus Christi on April 6.
The concert, dubbed "An Evening with Elton John," will feature the international sensation and his band performing his No. 1 hits and classic album tracks at American Bank Center arena, organizers announced Thursday.
"We've been trying for several years to bring Elton here and now we can finally say he is coming," said Marc Solis, American Bank Center general manager.
The composer, singer, pianist and performer debuted in 1970 with his self-titled album. With hits such as "Your Song," "Daniel," "Rocket Man" and "Bennie and the Jets," he became known as "rock's Liberace" for his over-the-top stage presence. His flashiness on stage has mellowed in the past decade.
In the past 40 years, the British rocker has sold more than 250 million records worldwide and has become one of the most successful artists of all-time, amassing more than 50 Top 40 hits and seven No. 1 albums in America.
John's "Candle in the Wind '97," which he wrote in the aftermath of Princess Diana's death, has sold 37 million copies, making it the biggest-selling single of all time, according to a news release.
Presently, John and fellow piano man Billy Joel are on tour; however, John's Corpus Christi concert will not include Joel, organizers said.
To date, no other concert dates are scheduled for Texas, according to John's official Web site, eltonjohn.com.
The Corpus Christi stop comes three days after John's scheduled performance in Chichen Itza, Mexico, which has drawn controversy because of concern over potential damage to the Mayan archeological site.
Tickets to the local show go on sale at 10 a.m. Feb. 20 through Ticketmaster and the arena's box office and will be $35, $65 and $85. Tickets will be limited to six per customer. Information: 361-826-4100 or www.ticketmaster.com
COMMENTS
There aren't any comments yet.
Comments are closed.