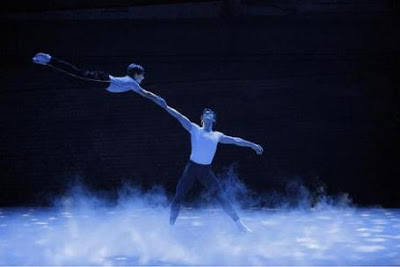 Dance St. Louis and the Fox Theatre have teamed up to bring "Billy Elliot the Musical" the hit show about a boy who loves ballet, to the Fox stage from August 10-28, 2011.
Subscribers to the Fox's Broadway series and to the Dance St. Louis season will find the show on their 2010-2011 schedules; renewal information goes out soon. Individual tickets will go on sale later.
The stage musical, which won 10 Tony awards in New York and four Olivier awards in London, is based on a hit English movie that inspired fans around the world – among them, singer/songwriter Elton John.
"Elton John is the reason this show exists," said Fox Associates producer Mike Isaacson. "When he saw the (2000) movie, he wept. He said it was his story," the story of a boy whose parents are baffled by his talent. John wrote the music for the show; the lyrics and the book are by Lee Hall.
In the show, Billy is a small-town boy who discovers his gift when he happens into a ballet class where he is, predictably, the only boy. His working-class family, stressed by financial pressure and labor troubles, hardly knows how to cope with Billy's talent. Ballet is far from what the parents, especially the father, expected from their son. But how many children ever turn into the people their parents expected?
A big production with a large cast (including, for each production, three boys who alternate in the demanding title role), the show's U.S. road tour opens in Chicago in March.
Dance St. Louis director Michael Uthoff believes that "Billy Elliot" has considerable appeal for two audiences that don't always go for the same things, the dance audience and the Broadway audience. "It reminds me of the end of the Cold War, when dance did so much to bring the East and the West together," he said. "This show breaks down barriers."
COMMENTS
There aren't any comments yet.
Comments are closed.