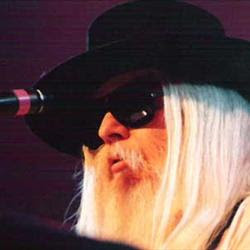 Leon Russell, the 70s rock star piano player who was part of Joe Cocker`s Mad Dog and Englishmen, is recovering from brain surgery
A statement at his website reads, "Leon is recovering after successful surgery on Monday to relieve a chronic condition. He is doing fine and resting in the hospital in good condition. He is expected to be released from the hospital in a few days".
The statement also mentioned that Leon will soon be joining Sir Elton John in the studio. "Leon is looking forward to beginning studio recording sessions during the last half of this month through February with Elton John, Bernie Taupin and T-Bone Burnett".
He is also planning on touring again from March. "He and his band will resume touring at the beginning of March".
The statement concludes, "Leon and his family wish to thank everyone who have kindly offered their prayers and support during his hospital stay".
67-year old Russell was born Claude Russell Bridges in Oklahoma in 1942
He wrote Joe Cocker's classic 'Delta Lady' as well as performing in Cocker's band. Other Russell penned classics include 'Superstar' (Cocker, The Carpenters) and 'A Song For You' (Simply Red, Kate Ceberano).
Leon Russell also had his own hit with a cover of Bob Dylan's 'A Hard Rain's A Gonna Fall' and his own 'Tightrope".
COMMENTS
There aren't any comments yet.
Comments are closed.