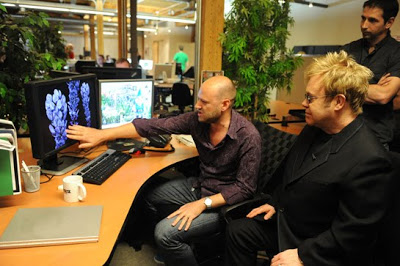 David Furnish has revealed forthcoming animation Gnomeo and Juliet is going to feature classic Elton John hits as well as new tracks.
The 47-year-old filmmaker is producing the comedy – featuring the voices of James McAvoy and Emily Blunt – and told how his civil partner is writing songs for the score.
David said: "It's got a lot of Elton's classic songs and he's even written some new songs that are going to appear in the film."
He added: "It's a wonderful, musical animated comedy – it's taking the Shakespearean Romeo and Juliet tale and telling it with garden gnomes so it's lots of fun, it's very witty, it's very British, terrific fun."
Patrick Stewart, Dame Maggie Smith, Sir Michael Caine and Jason Statham have also been linked to voice roles in the project.
David said: "It's an animated film we've been working on for a long time. We're in production right now and we are scheduled to be released in February 2011, so we'll finish production next year and do post-production and all the scoring and everything."
COMMENTS
There aren't any comments yet.
Comments are closed.