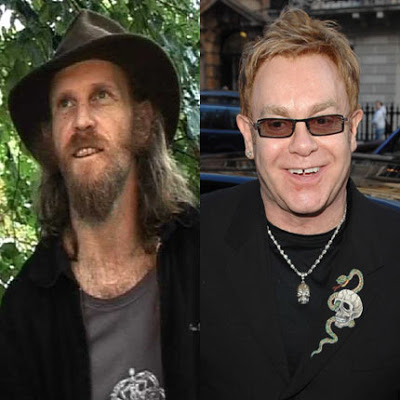 MEGA-STAR Sir Elton John's half-brother has spoken out against the singer's attempts to adopt a baby boy from a Ukrainian orphanage.
Geoff Dwight says the Ukrainian authorities are right to say that – at 62 – the musician is too old to be thinking about raising a child.
Geoff, 43, from Ruthin, Denbighshire, also suggested allowing a same-sex couple to raise 15-month-old Lev could see the child fall victim to playground bullies.
Sir Elton said last month that he and partner David Furnish, 46, wanted to give Lev a home after meeting the child during a charity tour of an orphanage.
But software developer Geoff insisted the boy's alcoholic mum Marina ought to be given the chance to clean up her act and take him back.
Ukrainian law says adoptive parents cannot be more than 45 years older than the child and does not permit gay couples to take on kids.
Father-of-two Geoff told Wales on Sunday: "That's sensible (to have an age limit for adoption) because you have to look at children growing up and the age of their parents."
Sir Elton and his estranged half-brother have long had a troubled relationship.
Although he is intensely proud of his half-brother's success, Geoff, one of four sons by Sir Elton's father's second marriage, has criticised the singer for failing to turn up to their dad's funeral in 1991. Sir Elton said "he had never really connected" with their dad.
Sir Elton's rendition of Candle in the Wind at Princess Diana's funeral six years later "rang very hollow" for Geoff after the star's no show at their dad's burial.
He has also suggested the star has never fully acknowledged the role their dad Stanley Dwight played in his success – he saved to buy the singer, who is now worth £175m, his first piano.
Geoff maintains Sir Elton became indifferent to his former World War Two fighter pilot dad because he sided with his mum Sheila after his parents divorced when he was 15.
But the singer has said their dad was a harsh disciplinarian who even banned him from listening to pop music. And there were few signs of any improvement in their relationship when Geoff insisted the Ukrainian's ban on gay couples adopting could be in Lev's best interests.
Geoff, whose life in a humble terrace cottage worth about £130,000 could not be further removed from the glamour surrounding Sir Elton's, added: "From the child's point of view they've got to go to school and all the rest of it. You know what it's like in school – if you've got anything slightly different then it gets pounced on.
"We can all have difficulties in school for all sorts of reasons and you'd see this as one, wouldn't you?"
Though the pair are no longer in touch Geoff has spoken of how Sir Elton was like a "long lost big brother" when he was growing up.
Before Sir Elton hit the big time Christmas cards arrived without fail, but later Geoff says he and his three brothers, Stanley, Robert and Simon, became the "baggage he left behind".
Sir Elton's adoption bid comes after celebs such as Angelina Jolie and Madonna have adopted children from Cambodia, Ethiopia and Malawi.
Geoff insisted HIV positive mum Marina's claims on her son should not be overlooked as Sir Elton looks to create a new family for himself.
She has said she will not give her baby to the superstar for "any money".
Geoff, who once lived in a shed to make ends meet, added: "I hope she does (get the boy back).
"I'm sure that whatever she's done she must have done the best thing for the kid. I'm sure she hopes that one day she'll be able to deal with the kid's life."
But he said there was nothing wrong with Sir Elton using his superstar status to try to overcome the rules standing in the way of the boy's adoption.
He added: "We're all the same and I suppose being a celebrity gives you a few more strings you can pull."
A spokesman for Sir Elton declined to comment.
COMMENTS
There aren't any comments yet.
Comments are closed.