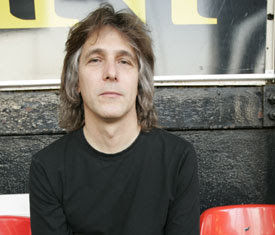 It is with great sadness that we announce the sudden death of Guy Babylon, keyboard player in the Elton John band. Guy died in Los Angeles on Wednesday, September 2. He suffered a sudden heart attack while swimming in the pool.
Elton, who is on holiday in Nice, France, said the following when he heard the news:
"I am devastated and heartbroken at the death of Guy Babylon. Guy played over 1000 shows with me, and we worked together on The Road To El Dorado, Aida, Billy Elliot, Lestat and Gnomeo and Juliet, as well as on countless albums.
"He was one of the most brilliant musicians I ever knew, a true genius, a gentle angel – and I loved him so much. David and I send our deep condolences to Kathy, Max, Ben and Jessica, to Guy's parents, to Kathy's parents and to all his immediate loved ones."
Keyboardist/composer Guy Babylon was born on 20 December, 1956 in Maryland, USA. He moved to California in 1980, six months after graduating from the University of South Florida, and became a respected session musician in Los Angeles.
Over the next number of years, Guy composed music for radio, TV and cable shows, doing demo work for bands and songwriters, and putting together a home studio in North Hollywood. During that time he played with acts as diverse as Iron Butterfly and Tavares, and was a member of the band Ashton, which also included future Elton John bassist, Bob Birch.
Guy's career accelerated in March 1987 when he won Keyboard Magazine's Reader Tape Contest with his entry, Babylon Bleu. Also in 1987, Guy co-wrote and performed on Siedah Garrett's K.I.S.S.I.N.G., which became a Number One dance hit in the US.
It was also around this time that Guy first met Elton's guitarist and band leader, Davey Johnstone.
More than a year after playing keyboards on a side project of Davey's, Guy got a call from the guitarist asking if he was interested in playing some live shows as Elton's second keyboardist, joining Fred Mandel. He said he'd be happy to.
Guy's first performance with Elton was for a benefit at the Century Plaza Hotel in Los Angeles in July 1988, and his first world tour as part of the Elton John Band began two months later in Miami, Florida.
Guy became lead keyboardist on May 26, 1992, and has been the only synth man on stage since the Walden Woods Benefit Concert in the fall of 1993.
Guy also created musical intros to some of the tour's opening numbers, including Bennie And The Jets (1989), Don't Let The Sun Go Down On Me, (1992) and Pinball Wizard (1993), and reinterpreted the synthesizer intro to Funeral For A Friend for the live shows.
Guy's first studio work with Elton was on the 1989 album Sleeping With The Past. Other albums he performed on since then are The One, Duets, The Lion King, Made In England, Love Songs, The Big Picture, Elton John & Tim Rice's Aida, Peachtree Road, The Captain And The Kid and The Red Piano, as well as other one-off projects.
Guy began writing orchestral arrangements for Elton's material with the song Man, from the album Made In England, and subsequently arranged all but one of the songs on Peachtree Road.
Guy won a Grammy Award in 2001 for his work arranging the stage musical Aida.
He served as the Musical Supervisor, Orchestrator, and Synth Programmer for the musical Lestat, which opened on Broadway in April 2006, also worked on The Muse, The Road To El Dorado, Billy Elliot The Musical and Gnomeo and Juliet
Guy played 1,351 shows with Elton throughout his 21-year career as a member of the Elton John Band.
COMMENTS
There aren't any comments yet.
Comments are closed.