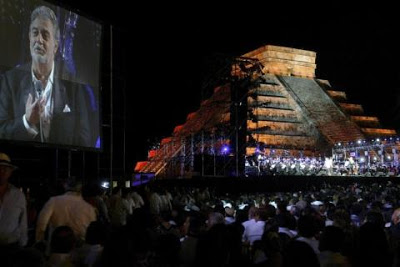 The Mayan pyramids of Chichen Itza, in southeastern Mexico, will be the scene of two grand concerts staged in the coming months by the British singer Elton John and Sarah Brightman, sources confirmed Sunday.
The presentation of the soprano Sarah Brightman could be done this year while the efforts for the presentation of Elton John suggests that this be held in 2010.
"I know that we will succeed, the walls of our ancient temples resound with the voice and the art of Sarah Brightman. And in 2010, at the foot of Kukulcan, is the music and the voice of Sir Elton John, "said the governor of Yucatán, Ivonne Ortega Pacheco.
The authority used its second report to the government announcement, which continues the series of concerts at the famous Mayan archaeological site, located some 180 kilometers west of Cancun.
This is not the first time that the ancient Mayan city of Chichen Itza, declared a World Heritage Site and one of the new seven wonders of the world chosen in a popular initiative on July 7, 2007 – serves as a stage for concerts.
Ten years before that date, in April 1997, the tenor Luciano Pavarotti offered "Voices in Chichen Itza, the first macroconcierto the Kukulcan pyramid in the background and in October 2008 was Plácido Domingo (pictured) who sang in one titled" Thousand Columns .
In announcing the two new concerts, whose exact date of completion is yet to materialize, the governor of Yucatan explained that state policy is to capitalize on its Mayan heritage "to project the world and revive cultural tourism local, regional and national."
The Mexican tourism sector this year has seen occupancy levels fall after the swine flu epidemic that emerged in the country in late April, which has moved away from the tourist destinations of the Mexican Caribbean thousands of visitors, especially foreigners.
COMMENTS
There aren't any comments yet.
Comments are closed.