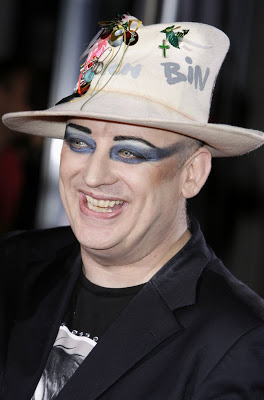 Boy George wants to go back to prison so he could perform for inmates.
The former Culture Club singer and recovering drug addict was released from Edmunds Hill Prison, in Suffolk, in May.
George, who is planning to tour as soon as his electronic tag is removed, old his management: "If you get a gig in a prison, I'll turn up."
The singer also revealed how Elton John's letter helped him deal with his four-month stint behind bars after he was convicted of falsely imprisoning a male escort.
"Elton offered me love and support from both himself and David [Furnish]. He also sent me a lovely music player," the Daily Express quoted George as saying.
"Stephen Fry, Matt Lucas, Antony Hegarty and Holly Johnson wrote to me too. The only time I got emotional in prison was when I got letters from friends. People that beforehand I wouldn't have thought I could rely on. It was really humbling.
"I did have a falling out with Elton a few years ago because I was being a bitch [George called him "a humourless grand old dame"] but we made up and we're really good friends again," George added. (ANI)
COMMENTS
There aren't any comments yet.
Comments are closed.