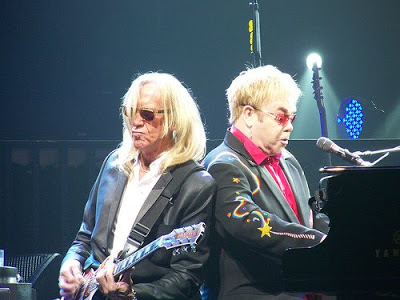 SIR Elton John's guitarist and musical director, Davey Johnstone, celebrates a remarkable milestone next week.
Davey, from Edinburgh, will perform his 2000th concert with Elton at Glasgow's SECC on Wednesday, after a relationship that has spanned almost 40 years.
Relaxing before a gig in Detroit, Davey admitted: "I didn't know it was my 2000th gig until Elton's office called me up. I was surprised but thrilled. It's exciting to think I'mplaying my 2000th official show in Scotland."
Davey has so many awards and platinum discs, he stores them in his garage and hands them to friends and relatives whenever he is short of a Christmas or birthday present.
As well as being Elton's guitarist, Davey is also his musical director and has co-written many classic songs, including I Guess That's Why They Call It The Blues. He also penned tracks with Elton for The Lion King soundtrack, worked with him on Aida andBilly Elliot, and the pair are currently working on an animated film for Disney called Gnomeo & Juliet.
Despite his incredible talent and experience, Davey enjoys a level of anonymity that enables him to spend time with his wife and seven children without being mobbed by fans.
In keeping with his status as one of the world's busiest musicians, his collection of stringed instruments stretches into the hundreds and includes plenty of vintage guitars and mandolins.
He received his first album credit in 1968, before going on to join British folk group, Magna Carta. Elton's producer Gus Dudgeon invited him to record on Elton's 1971 albumMadman Across TheWater and, since then, he and Elton have been inseperable.
"That was the first day I met Elton," Davey recalled. "It was a pivotal album for him and he was desperately trying become this star and it was just starting to happen. I was just 19, in the studio with established musicians I really looked up toincluding people like Herbie Flowers, playing bass.
"Elton was quite shy but we got on immediately. He'd say, 'How should we start this song?' and I'd say, 'Why don't we just go straight into it?' The fact that somebody was saying, 'Let's do it this way,' was something he noticed."
Davey's hands-on approach impressed Elton so much, he was asked to join his band full time. "I was a little bit surprised a couple days later when I got a call to say Elton wanted to useme on the next album, Honky Chateau," Davey said. "We went over to France and recorded it. I felt good because I was bringing a different side to the music that he wanted.
"He is a huge folk fan and I was playing acoustic as well as electric guitar. He loves Joni Mitchell and I was digging people like Bert Jansch and Billy Connolly, who was in The Humblebums. They were my mates in Scotland, so I'd play their music to him.
"When I get together with Billy Connolly, we laugh the whole time. He was as big an influence on me as George Harrison was. We got to play together a lot because Billy was a great banjo player and a lover of music in general.
"In those times, when the original Humblebums were hanging out with Gerry Rafferty, we'd hang out and get a bit wasted." Rocket Man from that album became Elton's first No.1 and, within months, he was on his way to being a superstar, with Davey in tow.
And the guitarist won't have to think too hard about which of his 2000 gigs stands out from the overs when he celebrates on Wednesday.
"The biggest stand-out is way back in 1974, when we didMadison Square Garden in New York and John Lennon came on with us," Davey recalled. "John had been recording with us and travelling with us the whole year so we were great mates. He loved to hang outwith us.
"Elton had made a bet with John that he would have to get onstage with us at Madison Square Garden if Whatever Gets You Through The Night, which Elton played piano on, got to No. 1. John said no problem because he never thought his single would top thecharts.
"But it did get to No. 1. That night of the concert, John said he was too nervous to go on. Even though John was incredibly nervous, it was the most amazing buzz when he did come onstage. The audience went completely nuts.
"After the show, I was in the New York Plaza hotel and Elton called me up and said, 'Listen, John's here withme and he wants to come over and hang out with you. Is that OK?' I remember saying, 'Is that OK? I might be a bit busy. Of course, it's OK. Sendhim over.'
"One of my greatest visual highlights is looking through the spyglass on my bedroom door and seeing John Lennon walking up the hall, with his black flat hat on, the shades and black gear. John hung out with me and we talked until eight in the morning. I played him some music I was into. I told him where I lived in Scotland and he said, 'I know exactly where it is. I always go up to Murrayfield.' I found out that he used to come up to Edinburgh every year on vacation because he had an aunt up there."
Over the years, Davey has also performed with a who's who of music names that includes Meat Loaf, Olivia Newton-John, Alice Cooper, Julio Iglesias, Judy Collins, George Jones, Rod Stewart, Belinda Carlisle, Lenny Kravitz and Vonda Shepard.
He has no idea of the number of platinum discs he owns, or how many awards he has received, let alone the number of times he has picked up a guitar to performa song from Elton's huge back catalogue.
Davey said: "All I know is I've been blessed and have gotten loads of awards. Most of them I give tomy family and good friends because it is embarrassing. I've never been into the idea of plastering a room with platinum albums. Don't get me wrong, it is great to have them and I am proud to have reached that achievement.
"A friend has my first Gold albums for records like Yellow Brick Road. He prizes that more than I do. Plus, my wife wouldn't want them on the wall. I'll give someone one of the awards as a present because they're beautiful.
"When Elton started getting them, it was platinum album diarrhoea. They were coming in the mail, five-a-day. So he started decorating his houses with them. He is not ostentatious about it, though. You get very blase about it, the more awards you get."Davey added: "I turned 58 and he threw the most beautiful dinner party for me in his house in Atlanta. His housekeeper Lucy cooked me the best meal of home-cooked Mexican food. Elton gaveme this gorgeous bracelet with black sapphires on it.
Elton is like Santa Claus. He is so generous, it's unbelievable."
Having lived and partied through the 1970s, a golden age of pop music, Davey now lives with his Danish wife, Kay, and their children, in Malibu Canyon, California.
He said: "I love Malibu Canyon because it is away from all the madness. I lived in Hollywood for the first 10 years in California. That was nuts. Completely mental. I had a party house with a view of the Hollywood hills. I knew I had to get out of there or I was going to die.
"Lowell George, the main guitar player with Little Feat, was a real icon among guitar players and would be over regularly. Oliver Reed, the actor, would come up and drink and snort everything in sight. I have mentioned two people who are dead so I thinkI should leave it there so I don't incriminate people.
"I can't deny it. We all had a phenomenal time. Making money and getting as whacked out as you possibly can was great, but the reality kicked in when we started losing good friends like KeithMoon, Jimi Hendrix and John Bonham. It was a wake-up call. Inthe 1980s, we started looking after ourselves a bit more."
Davey's workload is so huge he is required to have guitars crisscrossing the globe the year round. Ask how many guitars he owns and Davey admits: "I'm embarrassed to say, I don't know. When we doubled up the rig I lost count. In 1993, I had 100 guitars,mandolins, banjos and lutes and bizarre little things. Now, it's probably a couple of hundred and they keep on coming because I keep discovering new ones.
"The only place I haven't played that I can think of is Bangkok, in Thailand. I would love to play there. It got to be so stupid that, a few years ago, our tour manager asked if I could double up on my equipment. I couldn't duplicate because my guitarcollection is pretty legendary and I have some amazing instruments. But I said, 'I'll try.'
"With my guitar tech, Rick Salazar, we got in touch with Gibson and Fender and doubled up on my whole rig so that we could have an A rig and a B rig so we could have one set in the States and another set in Europe.
"It made it easier to play obscure places and get there quicker. So, I now have an A rig, a B rig and a studio rig. There's always 70 guitars floating around the world at any particular time. It makes it easier for the management to book us in to playplaces like Kazakhstan.
"I am very fortunate. The last 10 years, Elton and I will talk about the set for an upcoming tour and I get the guys together and we will rehearse a few things and get it all happening for him. It's a very cool position to be in. He totally trusts me asfar as what I amgoing to do with his arrangements. I pretty much have a free hand which is a great position to be in. We are still selling out concerts after all this time.
When I look out at our audience. I see three generations, which is amazing. Young kids come because they realise it is great music from the Seventies or whenever and people from our generation come because they know they are not going to see people lipsyncing.
"Elton's a hard working son-of-a-bitch. That is what keeps us going. We are at his mercy because he is a slave-driver. It is great to have the work but the work we do is ludicrous. People ask how we do it at our age.
"Right now, we are doing Gnomeo & Juliet for Disney. It's about garden gnomes and the music for it is phenomenal. As if we are not busy enough, we fly back to Atlanta with Elton on the off days to record songs for that. Then it's back for another show.It will go on like that until the piano player falls off his stool."
However, with the approach of 2000 gigs and counting, he admits the idea of retiring has crossed his mind, to the chagrin of his children.
Davey said: "My kids love what I do. I mentioned that I might be on the verge of retiring a couple of years ago and my daughter said, 'You can't. What will I tell my friends?' They love the fact that their dad is quite cool and plays in a rock band.
"It's all right for Elton. He gets to sit on his ass and play piano. I'mup there wielding a 25lb guitar. The wear and tear is starting to kick in. The reason we all keep doing it is because we love it."
Despite his achievements, Davey insists he doesn't consider himself a celebrity.
"Celebrity is a state of mind," he explained. "If somebody wants to follow that path of fame, that's what they'll do and they'll make sure they are surrounded by minders and make sure that they are catered for. I have always liked doing things for myselfwhether it is going to the market or going to the pub. I've always felt that if I'mrestricted, what's the point. I might want to take the kids to the park.
"Way back, I saw that Elton wanted to be a star. He wanted to write great music, but at the same time his intention was to be the biggest star and he did it. I saw the way he did it. He would do every single radio interview in every single town we gotinto. He accepted all the trappings that came with that. The problem is you get painted into a corner and you don't get to go out because people want to know your everymove. With me, I've never allowed that to happen. It has always been more important tohave friends, to go out and have a good laugh.
"I've been lucky enough to have people come up to me and say I got them through High School. I don't get people coming up and wanting to tear my clothes off. People thank me for the years of music and there's nothing better than that."
Meanwhile, he is more than ready to celebrate his remarkable 2000th Elton John concert in Scotland.
"I'll probably just do something with the family, who are coming through from Edinburgh," he said. "There's a whole bunch of them who always come through for the show. It's always kind of embarrassing. When we played Easter Road a couple years ago, I hada guest list of 40 and they had a big banner for me. It's great. I always get a great reception when I come back to Scotland."
COMMENTS
There aren't any comments yet.
Comments are closed.