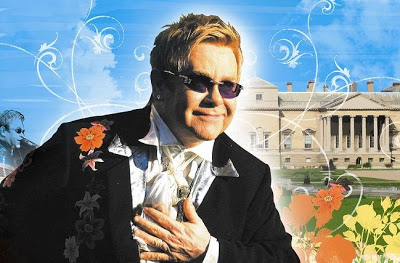 Elton and the band are to play concerts in Colorado Springs, Rapid City, Laramie and Denmark. The Denmark date is June 16, 2009, Sonderborg Castle, Sonderborg, Denmark.
—-
After years of playing his "Red Piano" show to a sold-out Las Vegas theater, Elton John is back on the road.
John recently announced two regional dates – April 3 at Laramie, Wyoming's Arena Auditorium and April 4 at Colorado Springs' World Arena. The Springs show is John's first Colorado date since a May 2005 show at Denver's Pepsi Center.
Tickets for the Springs show, $67-$127, will go on sale at 10 a.m. Saturday at ticketswest.com. Tickets for the Laramie show, $35-$85, will go on sale at 8 a.m. Monday at wyomingathletics.com. The Laramie show is a benefit for the Matthew Shepard Foundation, a long-time concern of John's.
"Ten years ago, Sir Elton did a concert in Laramie to benefit the Foundation," Judy Shepard, the foundation's executive director, said in a statement. "It was wonderful beyond description. He is a gracious and generous human being. We are sincerely grateful for his continuing support."
John, who has sold more than 200 million records, is playing these dates with his band after a couple weeks of touring with fellow pianist Billy Joel. On April 7, he'll be back at Vegas' Caesar's Palace for another string of "Red Piano" dates.
—-
The Rocket Man is returning to South Dakota. Elton John will perform in Rapid City on Wednesday, April 1 as part of his 2009 tour: Rocket Man, Number Ones.
Ticket prices range from $47 to $97; there is a limit of 6 tickets per customer.
COMMENTS
There aren't any comments yet.
Comments are closed.