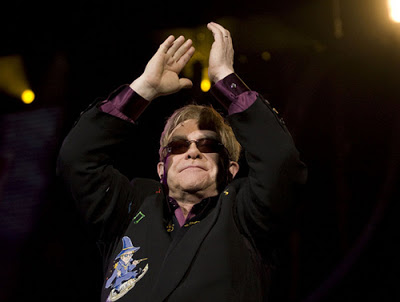 The singer and English musician arrived yesterday in the evening at our country, originating from Brazil, to appear tomorrow in the field of Juniors Mouth.
Friday will start off for Chile to continue their Latin American tour. John and his entourage of 8 people, where he stands out its pair, David Furnish, that married by the end of 2005 in the City council of Windsor, 10 musicians, equipment and 22 people arrived yesterday at Argentina, and they will be stayed in Park Hyatt.
Its show will be tomorrow, Thursday 22 of January, and will touch before the Argentine public after 17 years of absence by these earth, in field of Juniors Mouth.
Elton John requested a room with dvd, local newspapers and of English language, more than 50 hangers, plants of two meters, rubber plant, 4 palms, orchids pink and white flowers, dvds, a plasma to see the sport channels and mineral water of French or Italian nationality, among others things.
On the other hand, James Blunt will later arrive a day and that will be stayed in the Sheraton Hotel. Elton John will be presenting/displaying its world-wide tour The Rocket Man and James Blunt will offer a show its better successes.
The concert begins to 21,00 with the action of James Blunt and soon to 22,30 Elton will act John.
After their presentation in Argentina, Elton John and James Blunt, will start off for Chile, where they will offer a unique concert. Elton John will continue its tour by Venezuela, whereas James Blunt returns to Brazil to continue the presentations programmed in that country. After 16 years, Elton John will visit Argentina offering a unique function in the stage Juniors Mouth.
COMMENTS
There aren't any comments yet.
Comments are closed.