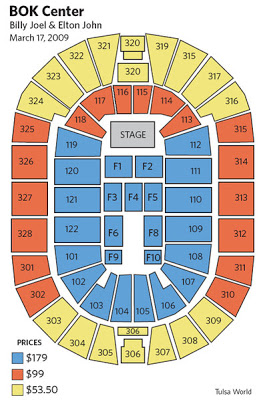 If you want the best seats in the house for the upcoming Billy Joel and Elton John "Face 2 Face" concert at BOK Center arena, you might consider buying seats behind the stage.
For the March 17 show, the venue will "sell out the entire arena," said Casey Sparks, director of marketing and sales. And, said Sparks, some of the best seats will also be the cheapest.
The stage will sit at one end of the arena but the artists will perform in a "360-degree format," said Sparks. That means that those seats behind the stage will actually be very close to Joel and John as they perform on their pianos, "and there are no screens, no obstructions, and they're the cheapest seats on the floor."
Also, sound presentation is geared to a 360-degree format, Sparks said. That means that there won't be stories-tall stacks of amplifiers obstructing your views, either.
"People think that 'behind the stage' is bad," she said, "so those seats are cheaper because they don't sell as fast."
There are two pricing tiers: Floor seats behind the stage start at $99, and upper seats behind the stage start at $53.50, Sparks said. The only other seats at that low price are in the very upper levels, the official BOK Center Web site shows. Floor seats in front of the performance area start at $177.
COMMENTS
There aren't any comments yet.
Comments are closed.