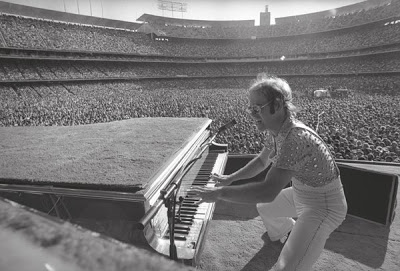 Elton John and Billy Joel are serious about getting back on the road again together. The singers have announced the first four dates for their upcoming "Face 2 Face Tour," which was also the name they used for their previous tours together.
LiveDaily reports Jacksonville, Fla.; Cincinnati, Ohio; Charlotte, North Carolina. and Atlanta, Ga. are the only cities confirmed so far for the tour's start in March. Tickets will go on sale for these shows this Saturday (12/6).
The 2009 Spring Tour will consist of a total of 20 shows scheduled around Elton's vegas commitments.
March 2008
2 – Jacksonville, FL – Veterans Memorial Arena
7 – Charlotte, NC – TWC Arena
10 – Cincinnati, OH – US Bank Arena
14 – Atlanta, GA – Philips Arena
John said in a statement, "I love touring with Billy. I have the greatest respect for him and we're such good friends."
Added Joel: "The great thing about performing with Elton is that he is such a good piano player and that makes me have to dig deep to keep up with him. Not to mention, I've got the best seat in the house–only one piano away from Elton John!"
John and Joel first toured together in 1994 and their last outing was in 2003, where they played 24 dates of sold-out shows. Promoters said that the singers will open the show on twin pianos and perform duets by trading vocals. They will then each have a headlining set with their own bands. As an encore, John and Joel will perform together with both their backing bands.
COMMENTS
There aren't any comments yet.
Comments are closed.