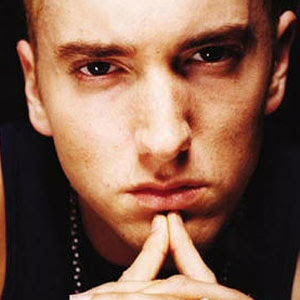 He may be the bad boy of white rap, but Eminem is set to wow fans of his music and acting career by starring in a new biopic of a British singing legend.
Real name Marshall Bruce Mathers III, the 35-year-old has been praised by poet Seamus Heaney for getting kids interested in lyrics and poetry and compared to Elvis Presley.
Now, following his critically acclaimed performances in 8 Mile and Da Hip Hop Witch, Eminem is set to take on his most challenging acting role to date.
He is reported to have signed up to play a young Elton John in an upcoming film about his life.
Eminem and Sir Elton appeared together at the 2001 Grammy Awards performing a version of the rapper's hit single Stan.
Sir Elton, life president of Watford Football Club, was a singing sensation in the 1970s, and Eminem is said to be excited at taking on his one-time collaborator's early hits.
The American star agreed to the role after reading the script, which deals with Elton's early life as a football-mad teenager and his route to international stardom.
"Eminem was not keen on kissing any men, so this early biopic is ideal for him. He gets to play Elton before he started all that gay stuff," a source close to the production said.
Eminem is said to be planning to travel to Watford research his role, and has already begun practising wearing very large glasses while squatting over a piano stool.
COMMENTS
There aren't any comments yet.
Comments are closed.