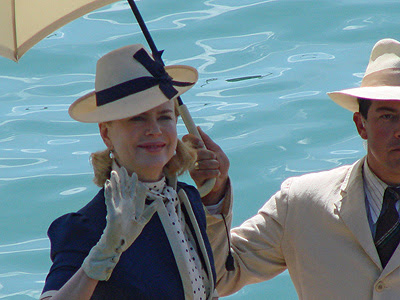 Elton John would jump at the chance of writing a love song for Baz Luhrmann's epic movie Australia.
The singer-composer and his partner David Furnish visited Luhrmann's set in Sydney on Wednesday and watched the film's leading lady Nicole Kidman at work in the studio, filming a ball scene set in a stunning recreation of the lush gardens of Government House in Darwin.
(When the couple walked onto the set, the film's band burst into Crocodile Rock in their honour.) I noticed, though, that he and Furnish sat well away from the acres of real grass that had been laid out.
"That sod leaves a bit of an aroma," one crew member commented, referring to the grass that had been carefully bedded down for a few days.
Australia is the biggest movie yet to be made in this faraway continent and it's a sweeping, yet ultimately intimate, tale join an of an aristocratic beauty, played by Nicole, who travels from England to visit her husband's sprawling ranch in the remote northern outback.
One way or another she meets a rough-hewn cattle drover, Hugh Jackman, who has his complex relationship with the landscape and locals.
"It's a small movie that I'm just coming to grips with after nine months," Luhrmann joked.
Then he added, more seriously: of delight Down "This film tests me as nothing else I've ever done."
Indeed, after a day on set I can see the movie has Luhrmann's stunning visual imprint.
Filming will actually end next week although a mammoth end-of-shooting wrap party will take place tomorrow for 700 cast and crew – plus their partners.
With Elton in Sydney for the opening of the musical Billy Elliot, it was a perfect opportunity for the singer to discuss what he might contribute to Luhrmann's film.
After watching footage on set, Elton, David and their two bodyguards were taken to a private screening room to watch a ten-minute rough assembly of scenes.
Both Elton and David told me they loved what they saw and thought Australia could become like Titanic on dry land.
David said that Elton would run over hot coals to be able to write a memorable love song for the mammoth £100million production.
Elton has film form, of course.
He and Tim Rice won an Oscar for their work on Disney's The Lion King, and scores of Elton's hits have been used on movie soundtracks over the past three decades – including some on Luhrmann's incredible Moulin Rouge movie.
COMMENTS
There aren't any comments yet.
Comments are closed.