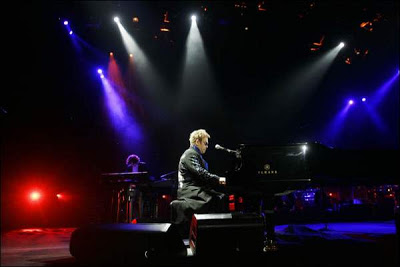 "Crossover" appeal used to mean that a singer from one Billboard hit list appeared on another, say from country to rock. But that was then.
This is now. "Crossover" has a lot more ground to cover. And it was clear last night at Germain Arena that Elton John is up to all that word could possibly mean.
Vans blasting competing Elton John hits had pulled in from local Radio stations hawking themselves as "classic rock," "lite," "mix," "rock" and "today's hits" as a sold-out crowd of 8,200 filed in to see Sir John in concert.
The music straddled genres, and the audience, generations.
Moms and dads sometimes toted a toddler.
Families came together to see the 60-year-old performer: Laurie and Steven Sloat of Estero are 43 and 47. Their sons Steven and Chris, 14 and 12, weren't even close to being born when Brit Reginald Dwight broke through to a U.S. audience with the single "Your Song" in 1970. And that single still has a special place in their parents' hearts. "That song – 'Your Song' — was our song," Laurie Sloat said.
For the Sloats and no doubt the rest of the audience, listening to Elton John was like taking a hop, skip and jump through their own lives.
Taking the stage in a black tailcoat suit with sequins and a royal blue shirt, John, 60, sported a bit of the flamboyance audiences have known for 38 years. He was dapper in an ascot and flashy in bling, in the form of a big, shiny cross around his neck. We loved him.
Actually, he had us at hello: He was treated to a standing ovation before playing even one note.
We have a history together, one that has lasted from vinyl to CD to iTunes.
Last night, it was easy to imagine the man – and ourselves — back in the '70s, Elton in his stacked platform shoes; in the '80s, in the huge glasses, as he sang his way down the "Yellow Brick Road." Together, we revisited "Madman Across the Water," "Levon," "Tiny Dancer," "Daniel," and the newer single, "Believe." When was it, for any of us, when "Sorry Seems to Be the Hardest Word"?
Ever the crowd-pleaser, John ended each song by standing and raising his arms and entertaining the applause that was his due. And then pointing to all angles of the arena, seeming to single out fan after fan, imparting to each a personal "thank you."
He was animated, standing on the piano bench and waving to the crowd after opening the show with a vigorous "Love Lies Bleeding." He sang the original "Candle in the Wind," and we remembered that other version he sang just one time in 1997, after Princess Diana died.
We celebrated our mutual survival in "I'm Still Standing" and a positively joyous "The Bitch is Back." Throughout, John was hale and hearty, and still at the top of his game. Indeed, "stone cold sober as a matter of fact" seemed more like a declaration than a lyric.
We gave him a break and sang the "La, la la la la la" chorus of "Crocodile Rock" ourselves.
Sometimes rocking out with his band of two percussionists – including original bandmate from 1969, Nigel Olsson – two guitarists and a backup keyboardist, and sometimes playing solo on piano, John was intense, closing his eyes behind blue shades while his hands flew across the keys in "Madman."
There wasn't a B side in the bunch, but "Honky Cat" had it all and funk besides. And then, a full hour and 40 minutes into the night, he was pounding his way through "Bennie and the Jets." He raised a fist and looked happy to be singing "Philadelphia Freedom" and a jaunty "Sad Songs Say So Much."
Wrapping up with "Saturday Night's Alright for Fighting," John was gone. Then back quickly to sign autographs on programs and at least one of the $150 denim jackets for sale in the lobby (topped in cost only by the black leather jackets at $400).
With his voice still strong, his fingers still nimble at 10:45, John took us through "Don't Let the Sun Go Down on Me" and "Your Song."
"Thank you Fort Myers," he told us, "we had a blast."
COMMENTS
There aren't any comments yet.
Comments are closed.