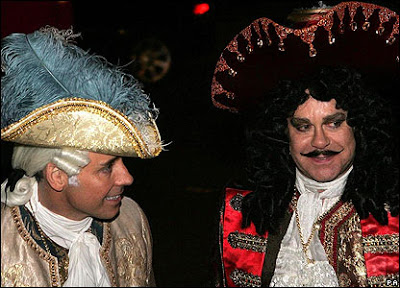 Elton John the musician is critically heralded just as Elton John the performer is universally adored by audiences throughout the world, but what about the person behind the artist with the larger-than-life persona?
'He's actually shy,' said John Jorgenson, Elton's former guitarist and a longtime friend of the entertainer. 'But along with that you have a very ambitious and competitive person. That's where he gets his self-esteem — music and performing.'
Born Reginald Kenneth Dwight in 1947, Elton John was a student at the Royal Academy of Music in London when he formed his first band Bluesology in 1961.
He would later take his stage name from Bluesology saxophonist Elton Dean and their charismatic frontman, Long John Baldry. As a young solo artist trying to establish himself, Elton John 'realized he had to get outside of his shy personality' and thus his early costumes 'were a buffer' between the 'over-the-top' presence he developed and naturally being the 'the shy guy' who grew up in a restrictive home in Pinner, Middlesex, England.
When Elton – then named Reginald Dwight – left Baldry's band in May 1968, he renamed himself after Baldry's saxophonist Elton Dean, and got "John" after Long John himself. When Elton tried to commit suicide in 1968 because he was supposed to marry a woman he did not love, Baldry told him it was okay to be gay, a moment immortalized in Elton's 1975 hit Someone Saved My Life Tonight. The lyrics "Sugar Bear" refer to Baldry.
"That song is about John Baldry at the Bag O' Nails [pub] saying, 'You've got to call the wedding off,'" Elton recounts in Myers' book. "Without that it could have been an entirely different story. He really did change the course of my life, bless his heart."
Early on, Elton John was admittedly very self-conscious of his looks, although that is not the case today.
'I don't think he'd go onstage in a Donald Duck costume,' said Jorgenson, who did note that Elton John has as much a sense of humor as he has a flair for style.
In fact, although the 60-year-old may no longer don any flamboyant costumes, he did once attend an Iggy Pop concert in a rented gorilla suit. He even got onstage with Pop and began dancing.
'Iggy didn't know it was him and started punching him,' recalled Jorgenson. 'Elton was like, 'It's me. It's Elton John.'
'British humor is so much snappier than American humor.'
Although he isn't known for writing lyrics, a task left to longtime collaborator Bernie Taupin, Elton John's love of 'funny things' has a tendency to come out in the form of parodies.
Those who know him best will attest to the fact that he's rather emotional. A characteristic that leads to him sitting at the piano and writing self-deprecating lyrics right there on the spot.
'He's brilliant in that way,' said Jorgenson, who added the parodies are often topical, rowdy, hysterical and not to be repeated.
'He's not going to goof around with the music, but he's an amazing parody lyricist. In a concert he would never do that.'
COMMENTS
There aren't any comments yet.
Comments are closed.