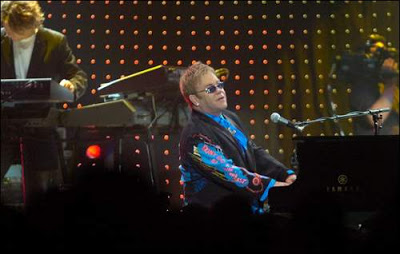 As people packed the Sioux Falls Arena hallways before Sunday night's Elton John concert, it was easy to feel they were celebrating the arrival of an entertainer worth their attention.
The concert's mood confirmed it as this almost 150-minute show was marked with excited approval for a man still casting considerable energy and passion into songs that he's played hundreds – perhaps thousands – of times.
And as the evening marched toward the end with about 7,000 people dancing, singing and playing air piano to the raucous, rocked-out spirit of "I'm Still Standing" and "Crocodile Rock," it was easy to think John's adorability comes from his ability to stir up the moment with pleasant, amped-up party songs that cause grandmas and girls, grandpas and boys, to dance along in smiling satisfaction.
But celebrating only that moment would deny John his artistic scope and his true appeal. Because the concert's most meaningful moments came when John was content to let his piano gently weep.
"Levon" carried the sorrowful angst of waiting for your friend to return, marked with the passion of a man so excited to sing his voice trembled with force. "Sorry Seems to be the Hardest Word" trapped the desperate mood of a guilty lover into a song that hits like regret. "Candle in the Wind" – itself a eulogy to Princess Diana and Marilyn Monroe – has become a cultural reference for celebratory mourning. It was given the backlit cell phone appreciation – a communion in sorrow from the audience to the performer.
And, of course, "Rocket Man" and its exploitation of melancholy to inspire more powerful emotions played like doublespeak with its song about rare encounters summarizing the frustration and remorse that entertainers on the level of John come to Sioux Falls so rarely.
John left nothing in his chest. Most of the songs were delivered with the expressed and immediate passion they were written in, and hit like emotional bombs set to melodies that make you want to cry.
John's cocker spaniel, it turns out, is from the Mount Rushmore State – "Everywhere I go I take a little piece of South Dakota with me" – and the singer expressed affection for Mitchell's own George McGovern, whom he described as a great man he thought he'd never meet. Thoughts about peace and the former senator provided the lead-in to "Believe."
Upbeat and raucous hits such as "Philadelphia Freedom" and "Saturday Night's Alright For Fighting" poked the other side of human emotion with tunes that inspire outbursts of delight.
As he ended the night singing "Your Song," dedicating it to everybody in the room, it's apparent that John's legacy is how he can tap into the intimate and unexplainable feelings of the heart we struggle to verbalize.
Sunday night, John played our heartstrings just as he's been doing for decades – effortlessly and expertly, without waiting for permission to celebrate the feelings we're sometimes afraid to confront.
COMMENTS
There aren't any comments yet.
Comments are closed.