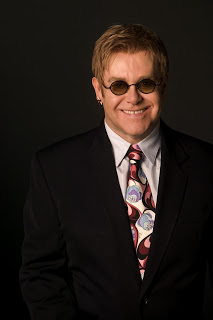 For the first time, using the most extraordinary and innovative technology, Sir Elton will step back into the key moments of his life in Elton John: Me, Myself and I, and reveal his true feelings about what was really going on.
In this 90 minute special for ITV1, the superstar will take viewers on a flamboyant, intimate, entertaining and outspoken journey through his colourful life.
Elton, who has a career spanning more than four decades and boasts global record sales of over 250 million, will be dropped right back into the middle of influential moments in his life, enabling him to interact with his younger self, relive his most memorable times, and fulfil some of his long held but never realised ambitions.
Me, Myself and I moves through the highs and lows of Elton's life, voiced in his own words.
With exclusive access to Elton, and an unprecedented rummage through rare archive material, the viewer will experience a unique level of intimacy as Elton gives a private insight into his past.
Elton will revisit the low times of his life from the perspective of a man who has faced up to demons and overcome them.
He will look back over unsuccessful relationships, and describe the contentment within his life since his civil partnership to life partner David Furnish.
He will also cover his friendship with the Queen, the Queen Mother, Princess Diana and celebrities including Rod Stewart, John Lennon and Morecambe & Wise.
Renowned for his gloriously self-deprecating sense of humour, Elton commented: "It's kind of touching in a way to look at my life like that, seeing things that I've done and that I've been through and still be able to laugh at it.
I've taken work seriously, the artistic side of things, but I've never really taken fame seriously otherwise I wouldn't be able to look back and laugh at some of the hideous things I've done!"
Each segment of Elton John: Me, Myself and I will tell an important part of Elton's life story, and all in his very own words.
Where it all began…
Sir Elton John ranks up there with The Beatles but he came from very humble beginnings.
Elton: "I was in a little group, I was still at school, and to get some equipment I had to earn some money.
So I got a job in the Norton Hills Hotel opposite the station playing piano on I think one night a week and maybe a Saturday night and singing.
I would get a pound a night and all the money I could keep from somebody taking a box round and people putting tips in.
I was sitting right near the window, I'm here, the window's there and the pianos here and many's a night when fights have broken out that I've actually dived through the window."
Bernie Taupin…
Bernie Taupin was only 17 and living with his parents but his mature lyrics impressed Elton.
"I loved them and I went home and started writing songs to them. It was an instant relationship.
I found I could write very easily to somebody's lyrics and I'd never done that before.
I mean talk about kizmer and fate. And that's how I found Bernie and how Bernie found me."
Bernie says [old clip], "I write the words and he writes the melody so there's no need for us to sit together and do it together, as I say I'm sure it would be disaster."
America…
1970 and a fresh faced 23 year old Elton John arrives in California to embark upon a life changing tour of his promised land.
Elton explains, "What happened to us in America was nothing else short of being in the right place at the right time.
We'd had The Empty Sky album, we'd had The Elton John album out to great reviews and we were doing shows and we were getting a reputation for our live performances."
By 1975 Elton John was the biggest selling solo artist in the world and had a record seven number one albums in a row.
Elton: "We had a top forty single every year for 35 years in a row which I don't think will ever be beaten."
Elton adds, "You have to realise I was living my dream – doing radio interviews, press interviews, touring, recording, travelling, none of it was a problem for me because I was meeting people that I couldn't believe I was meeting and I was just enjoying every single minute of it."
Morecambe & Wise…
One of the perks of being an international superstar is making amazing friends and in the 70's Elton met two of the most fantastic characters of British showbiz – Morecambe & Wise.
Elton: "I got to know Eric Morecambe through the football because he was a Luton town director and I was a Watford director at first and of course at that time in the 70's they were the kings of comedy.
When I did those two Christmas shows with them, you didn't refuse those shows, it was like an honour, it was like getting a Knighthood or something, you've been asked to do The Morecombe and Wise Show!
"They were so funny to do. It was a real privilege to be on those shows with those guys, Eric Morecombe was one of the funniest people in life and Ernie was the perfect stooge for him. You did it to be completely taken to the cleaners."
The Royals…
For a former pub singer from Pinner, Sir Elton John's circle of friends is far wider and more blue blooded than he could have possibly predicted.
Of all the Royal Family the strongest bond Elton formed was with Diana The Princess Of Wales.
Elton: "We became friends when she was going through the divorce, which was a very hard time for her.
She was very funny, she was never depressed about it. She was full of fun and very realistic, very honest about what was going on."
Elton also talks very honestly and openly about some of his closest relationships with The Beatles, Rod Stewart, his low times, The Elton John Aids Foundation, his beloved Watford Football club and his civil partnership to David Furnish.
COMMENTS
There aren't any comments yet.
Comments are closed.