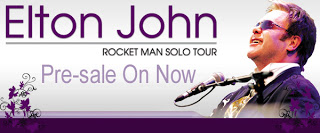 CHUGG ENTERTAINMENT/MY TICKETEK INTERNET PRE-SALE
Pre-sale starts
:
Wed 8 Aug, noon
Pre-sale ends*
:
Fri 10 Aug, noon
General public on sale
:
Mon 13 Aug, 9am
A pre-sale is an opportunity to secure tickets prior to the General Public, not a preferential seating service. A selection of seating throughout the venue is made available for pre-sales.
* or until pre-sale allocation is sold out.
On sale times are quoted in local time.
The pre-sale is only available through this link: http://premier.ticketek.com.au/shows/show.aspx?sh=ELTONPRE07 The password is: ROCKETMAN
COMMENTS
There aren't any comments yet.
Comments are closed.