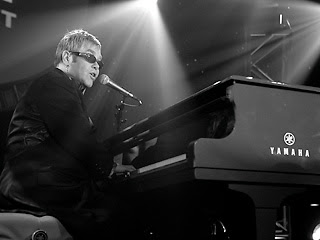 COLUMBIA — As of 4 p.m., there were about 2,000 tickets left for Elton John's Oct. 5 concert at Mizzou Arena. Amy Carroll, director of marketing and booking at the arena, said the available seats were behind the stage.
Tickets went on sale at 10 a.m. today and they are going fast. The line of fans that formed at Mizzou Arena's box office this morning stretched across the arena. Tickets also went on sale this morning at Ticketmaster outlets as well as on the company's Web site.
Karen Ross, the first person in line at Mizzou Arena, said she had camped out with a friend since 5:45 p.m. Sunday. "We wanted to ensure ourselves good seats," she said. She walked away with 16 tickets in all.
Instead of going into work at 3M this morning, Steve Moore rode his motorcycle to Columbia's Streetside Records.
Moore, 43, made the 15-minute drive from Harrisburg to purchase tickets for himself and his wife.
Malissa Peacock of Columbia was also in line at Streetside. She saw an Elton John concert in Atlanta in 1973 with her sister; this time, she'll be going with her children.
"I think my kids should see him and hear him," she said.
Nick Soha, assistant manager of Streetside Records, said that people were waiting in front of the store when he arrived for work at 9 a.m. He said the rush to get tickets for this show has been one of the busiest since country singer Kenny Chesney played Columbia a couple years ago.
According to Ticketmaster, people can buy as many as eight tickets, which range in price from $47 to $67 for the upper bowl and behind the stage to $87 for seats in the lower bowl and on the floor.
But Gary Emanuel, 73, of Columbia said that he was only able to buy three of the five tickets he needed the first time.
"I'm not excited about standing in line a second time, " Emanuel said.
Soha said that he expected tickets to be sold out by the end of the day.
"You want everyone to get a ticket and to be happy, but it just never happens, unless you get lucky," Soha said.
Tickets for the event are being sold online at ticketmaster.com and in person at the following locations:
Streetside Records, 401 S. Providence Road
Mizzou Arena, Stadium Boulevard
The Blue Note, 17 N. Ninth St.
Schnuck's, 1400 Forum Blvd.
Brady Commons, MU campus
COMMENTS
There aren't any comments yet.
Comments are closed.