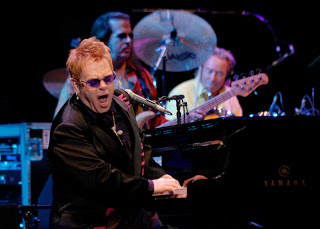 It looks like Elton John is coming to Missoula.
The five-time Grammy Award-winning British rock star is tentatively scheduled to perform at the Adams Center on Sept. 28 – the Friday before the University of Montana's homecoming football game against Weber State.
The announcement came at an orientation for new professors Friday, said UM President George Dennison.
UM's vice president for finance and administration, Bob Duringer, told new faculty members about the concert, which came as much of a surprise to Dennison as to others in the room.
"I had heard this was being discussed, but the final details happened to get worked out just today," Dennison said late Friday afternoon. Had he known earlier, he said, the news would have broken at his own State of the University address Friday morning.
Duringer cautioned that a final contract is still several weeks from being signed.
"It looks favorable, but it's not done yet," he said.
Duringer told the new staff members about the concert as a way of showing them "about the dynamic part of the community."
The concert will be the second blockbuster brought to the University of Montana in as many years.
The Rolling Stones played in Washington-Grizzly Stadium last October, attracting a sell-out crowd of 23,000 fans to the highest-attended concert in the state's history.
This time, though, the concert will be indoors.
Some of Elton John's biggest hits include "Tiny Dancer," "Rocket Man" and "Goodbye Yellow Brick Road." He won Grammy Awards for "Can You Feel the Love Tonight" from Disney's 1994 animated movie "The Lion King," and for the revised 1997 version of "Candle in the Wind," mourning the death of Princess Diana.
Elton John was knighted by Queen Elizabeth II in 1998, granting him the title of "Sir."
COMMENTS
There aren't any comments yet.
Comments are closed.